When should I Fertilize my lawn in Dallas?
Dallas Lawn fertilization service should be applied three to four times per year, early spring, late spring, summer, and fall. Your turf grass needs nutrients throughout the year to grow thick and healthy grass. Weed control is also important to keep your Dallas lawn healthy and green. Adding several fall and early spring pre-emergent weed treatments will go along way to rid your turf grass of pesky, unsightly weeds.
Apply pre-emergent treatment to your Dallas lawn in the winter months while your grass is still dormant. These treatments every treatment every four to six weeks will kill weed seeds before they can germinate. Early spring, when your lawn comes out of dormancy and begins to turn green, your turf grass needs to be fed. As a rule of thumb, fertilize when your grass needs it first mowing of the season. We also recommend aerating your lawn in early spring to allow your Dallas lawn to absorb more air, water, and nutrients. Core aeration followed by fertilization will strengthen the root system and promote thick, healthy turf growth. Water your lawn after each fertilization to help the nutrients soak into the soil.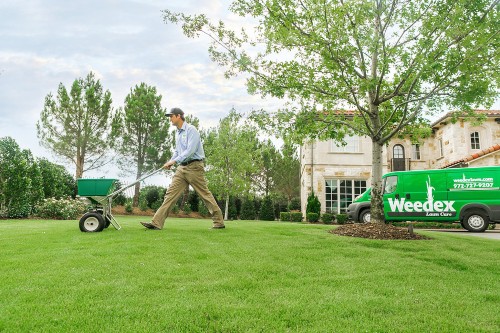 In late spring, your lawn needs a second dose of nourishment with fertilizer. Complete your second application between 6 and 8 weeks after the first treatment. Watering your yard goes hand in hand with fertilizing.
Summer heat is tough on Dallas lawns. Keep your grass height longer in the summer months to help the soil retains more water and prevent drought stress. Six to eight weeks after your late spring treatment, apply your third round of fertilizer. Be sure to water your lawn thoroughly after fertilizing, and if not, your grass can get chemically burned by fertilizer burn during the summer heat.
Fall is a time when your Dallas lawn needs nutrients to help it recover from a long hot Texas summer. This round of fertilizer will feed your grass in preparation for dormancy in the winter. Be sure to water in your fertilizer to help with the absorption process. You can fertilize before an impending rainstorm to save on your water bill and let mother nature water in the application for you. Check the forecast to ensure you're not getting a Texas flood that will wash away your fertilizer and hard work.
---
Should I pay someone to fertilize my lawn?
There are many Dallas lawn fertilization services available. Paying someone for lawn fertilization can save you time. DIY can also get the job done. However, to Do It Yourself, you will need to know a few things. First, you need to know the type of grass to choose the right kind of fertilizer. Second, you must stay on top of the treatment schedule and use the proper fertilizer and water at the appropriate time. Third, knowledge of different weeds, lawn insects, and lawn fungi in your area is helpful. Otherwise, you could easily overlook or misdiagnose a problem that can spread quickly and devastate your lawn.
Hiring a professional Dallas lawn ferritization service company offers several advantages beyond the obvious of saving you time. Most professional lawn care services will fertilize your lawn with the proper mixture for each season. Many companies also treat common weed issues. Some companies treat your turf grass more times per year than others. Some lawn care companies may use higher-quality fertilizer and weed control products. However, an outstanding lawn care service will provide both higher treatment frequency and quality products. Plus, they will communicate with you before and after each treatment. Before they treat your lawn, they will ask about any concerns you have. After treating your lawn, outstanding lawn care professionals will provide you with a report noting any issues they discover with your yard. This report will address your concerns plus any issues with lawn insects, weeds or lawn fungi. The information will also provide watering and mowing requirements needed to keep your turf grass performing at its best. Call Weedex for a fast, free phone quote at (972) 727-9207.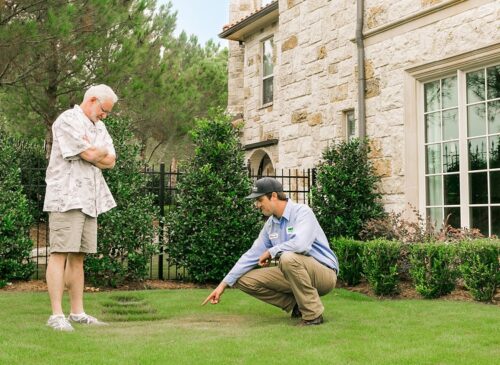 ---
Is lawn fertilizer service worth it?
A lawn fertilizer service is worth it if they provide you with all the lawn treatment services and reporting described above at a reasonable price. Getting timely lawn treatments with clear communication about post-treatment watering and mowing is essential to a greener, healthier lawn. Notifications about any potential insect, weed, or fungus issues will enable you to control any problems before they escalate and cause widespread damage. Not all lawn care companies offer all these services at a competitive price. Before you choose, be sure to find one that checks all the boxes. Check their reviews as well to make sure customers like their service. Choose a local company with an excellent reputation that knows north Texas turf grass, soil, weeds, insects, and fungi. Weedex Lawn Care is locally owned and has been serving North Texas homeowners for over 20 years. Call for a free quote by phone at (972) 727-9207.
---
How much is lawn care in Dallas?
Most lawn care companies in Dallas charge by the square foot for fertilization services. The number of treatments, type of product used, equipment quality, level of professionalism, and local lawn care knowledge all influence lawn care costs. Minimum pricing can range from $45 to over $70 per treatment for smaller lawns of 5,000 square feet or less. When looking for a lawn care service, compare all of these factors before making your final choice. As you would do with most home services companies, research their reviews and years in business locally. You will find the better-rated Dallas lawn fertilization services are not usually the cheapest.
---
Is there a bad time to fertilize your lawn?
There is a bad time to fertilize your lawn, in fact, there are several. These are the three worst times to fertilize your Dallas lawn.
Do not fertilize your grass in the winter. Fertilizer is not needed when the grass is dormant. However, winter months are a good to to apply pre-emergent for weed control.
Don't apply fertilizer when heavy rains are pending because the fertilizer can wash away or over saturate areas.
During the summer heat in Dallas, beware of fertilizers with quick-release nitrogen. This form of nitrogen can burn your grass more easily. Overlapping, spilling, or placing too much fertilizer on your lawn can also burn your turf grass. There are fertilizers with slow-release nitrogen that are easier to apply without the risk of burning the grass. Make sure you water after applying your fertilizer. When in doubt, call a professional lawn care service to keep your lawn healthy and green.