We offer lawn care services to residential properties in Arlington, TX.
Our services include lawn fertilization, weed control, core aeration, lawn disease control, and many more.
Arlington, TX, is a city in Tarrant County and part of the Dallas-Fort Worth metropolitan area. This vibrant and energetic city offers a lot of entertainment options! Whether you want to walk or hike on a scenic trail at the Sheri Capehart Nature Preserve or appreciate exceptional works of art at the Arlington Museum of Art, there are many recreational things to do here. Arlington is also home to AT&T Stadium, the home of the NFL's Dallas Cowboys.
Our team at Weedex Lawn Care helps residential property owners in Arlington, TX achieve healthy and beautiful lawns with our lawn care services. Some services we provide include lawn fertilization, weed control, core aeration, lawn disease control, and more. When you hire us, we will work tirelessly to help your lawn flourish!
---
Enjoy a strong and thriving lawn with our lawn care services.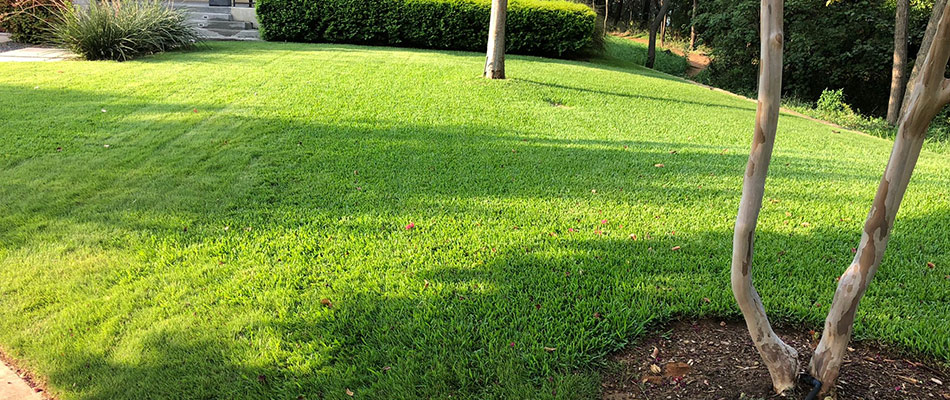 Our team offers a lawn fertilization service that involves multiple treatments throughout the year to ensure your grass in Arlington, TX, has all the nutrients it needs to grow strong and healthy. We use a slow-release lawn fertilizer packed with much-needed nutrients to provide a steady and consistent supply of nutrients to your lawn. We will also treat your grass with weed control treatments to get rid of pesky weeds competing with your lawn for essential nutrients. Our pre-emergent weed control treatments prevent weeds from breaking through the soil surface while our post-emergent treatments will get rid of existing weeds on your turf.
We provide a core aeration service, too. It involves creating holes in the soil to open channels where nutrients, water, air, and sunlight can pass through and reach the roots of your grass. To further ensure your soil is in optimum condition, we offer a soil care program that consists of multiple treatments designed to improve the soil quality on your lawn.
Part of keeping your lawn in optimum condition is ensuring it is free of any diseases or insect infestations. However, there are various lawn diseases and insects in Arlington that can impact the health and appearance of your grass. To help your lawn combat them, we provide a lawn disease control service that targets common turf diseases in Arlington such as take-all root rot, brown patch, and gray leaf spot. We also offer lawn insect control treatments to protect your grass from extensive damage caused by pests such as grubs, chinch bugs, and bermudagrass mites.
We offer a fire ant control service that effectively eliminates fire ants and provides long-lasting protection from them! If you have trees and shrubs on your property, you can count on our experts to look after them! We provide a top-notch tree and shrub care program that involves fertilization treatments to strengthen your plants and disease and insect control treatments to help them combat damage-causing diseases and insects.
Our team has been providing top-of-the-line lawn care services since 2001!
---
Call us today to sign up for any of our lawn care services!
Our team at Weedex Lawn Care offers excellent lawn care services to residential properties in Arlington, TX, and throughout the surrounding areas. When you hire our team, you can rest assured that we will pay unparalleled attention to detail to ensure your grass is always at its best. Give us a call today at (972) 727-9207 to sign up for our services.