Professional Lawn Care Services for Residential Properties in Frisco, TX
Our team has been strengthening lawns since 2001.
Frisco, TX, is a city in the Dallas-Fort Worth metropolitan area, and it's a great place to live that's filled with fun attractions and unique destinations! You can visit the Frisco Heritage Museum to learn about how Frisco went from a small community to one of the fastest-growing cities in the United States. Frisco is also home to various sports venues, like Riders Field, The Star in Frisco, and Toyota Stadium.
Our team at Weedex Lawn Care provides professional lawn care services for residential properties in Frisco, TX. Since 2001, we've helped homeowners strengthen and beautify their lawns, consistently providing excellent results and top-notch customer service. If you're still looking for a team to care for your lawn, look no further than our crew.
---
Our Lawn Care Services Promote Robust & Vibrant Grass Growth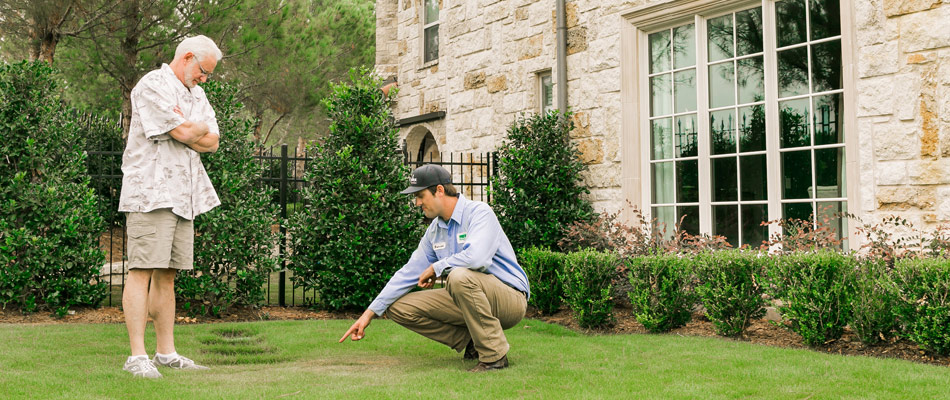 Your grass needs a sufficient supply of essential nutrients to thrive. Our team can give your lawn in Frisco, TX, the nutrients it needs to become robust and vibrant through our lawn fertilization service. We'll visit your property multiple times a year to ensure your grass never runs short of vital nutrients. We also offer a weed control service that involves applying pre- and post-emergent weed control treatments to keep your turf free of weeds!
If your lawn looks weak despite efforts to improve its health, you'll want to look at the soil. It may be compacted, and the roots of your grass might be having trouble accessing nutrients. Our team can address soil compaction through core aeration, which involves creating tiny holes in the ground to create channels where nutrients and other essential resources can pass through to reach the roots of your grass.
It's important to enhance the condition of your soil through soil care treatments so it can help your grass grow its best! With our soil care program, we'll visit your property in Frisco 4 times a year to apply different soil care treatments that help improve the condition of your soil.
When it comes to tackling lawn diseases, you'll want to be proactive. Our team likes to get ahead of common lawn diseases in the Frisco area through preventative fungicide treatments. However, we're also equipped to eliminate existing diseases through curative treatments. We also offer treatments to target lawn insects like grubs, chinch bugs, and bermudagrass mites to protect your lawn from these damage-causing pests.
If you have a fire ant problem on your property in Frisco, we can help solve it! We offer a fire ant control service that involves one application of our granular fire ant control treatment to eliminate ant colonies on your property. We'll administer the treatment once a year before the fire ant season; you can rest assured that the treatment will provide long-lasting protection from these pesky critters!
---
Give us a call today to sign up for any of our lawn care services.
Lawn care is not a one-and-done thing. Throughout the year, you need to continuously look after your lawn to ensure it is growing strong and healthy. It requires tedious work, but it doesn't have to be your job. We're happy to take the work off your hands through our lawn care services, which we offer to residential properties in Frisco, TX.
No matter the job, our team at Weedex Lawn Care focuses on paying sharp attention to detail and providing excellent customer service. If you're ready to improve the healthy and beauty of your lawn, call us today at (972) 727-9207 to sign up for any of our lawn care services.