We offer lawn care services to residential properties in Burleson, TX.
We can give your grass everything it needs to thrive and protect it from weeds, diseases, and insects.
Burleson, TX, is a city located in Johnson and Tarrant counties and sits in the southern part of the Dallas-Fort Worth metroplex. If you're looking for something to do in this city, you can enjoy a quiet, peaceful afternoon at Bailey Lake Park, where you can have a picnic with your loved ones or go on a nature walk! If you're a fan of fine wines, you'll want to visit Lost Oak Winery and take advantage of their winery tour to see how they make their award-winning wines!
Our team at Weedex Lawn Care proudly provides lawn care services for residential properties in Burleson, TX. We are a family owned and operated lawn care company that is committed to providing high-quality lawn care services and delivering exceptional results to our clients. When you work with us, our team will give your grass everything it needs to thrive while protecting it from damaging diseases and insects, as well as nutrient-stealing weeds.
---
Our Lawn Care Services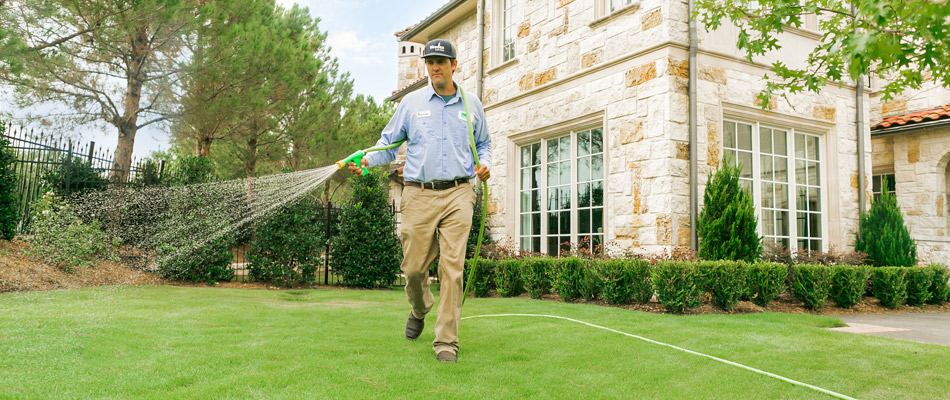 Healthy and verdant lawns are hard to achieve. It takes a rigorous lawn care routine to get your grass to its best health, and we're well-equipped to make it happen for you with our lawn care services. Our team offers a lawn care program that includes 8 visits throughout the year to apply lawn fertilization and weed control treatments. Our lawn fertilizer treatments are packed full of nutrients that promote healthy grass growth and our weed control treatments can eliminate pesky weeds that are competing with your grass for nutrients.
Our team offers a core aeration service in the spring to help loosen compacted soil and allow the roots of your grass to access nutrients, water, air, and sunlight. We go the extra mile to keep the soil on your property in Burleson, TX, in good condition with our soil care program. This program involves 4 soil care treatments throughout the year that are designed to enhance the condition of your soil while helping your lawn combat drought stress.
We offer lawn disease control and lawn insect control services, too. We tackle lawn diseases through preventative and curative fungicide treatments that target common diseases in Burleson, like take-all root rot, gray leaf spot, dollar spot, and brown patch. Lawn insects like bermudagrass mites and chinch bugs are no match for our effective curative treatments!
Grubs are a real problem for homeowners in Burleson. Don't fret! We provide a specialized grub control service that maximizes the effects of preventative treatments so grubs have no opportunity of damaging your lawn. If you're already dealing with a grub infestation, we'll make them a non-issue with our curative treatments.
Fire ants are one of the last things you want to see on your lawn. We can get rid of these tiny pests with our fire ant control service. Our team will apply our granular treatments across your entire lawn, making sure we miss no area, to eliminate fire ants and ensure they don't return to form new ant colonies for at least a year.
---
Call us today to schedule any of our lawn care services.
If you want to achieve a thicker and lusher lawn on your residential property in Burleson, TX, look no further than our lawn care services. At Weedex Lawn Care, we are equipped with the proper skills, training, and experience to ensure we perform our lawn care services perfectly so that you get the best results for your turf! Give us a call today at (972) 727-9207 to schedule any of our lawn care services.