Grand Prairie Weed Control and Lawn Fertilization
Weedex is your weed control and lawn fertilization expert for Grand Prairie and DFW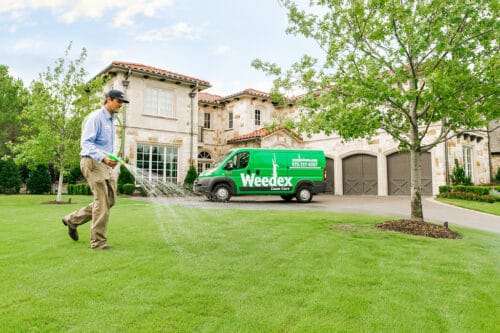 We want you, and your neighbors in Grand Prairie to notice a greener, healthier, weed-free yard. Our prices for our weed control and lawn fertilization services are competitive with to big name lawn service providers, but without the long-term contract. Weedex lawn care is a locally owned, North Texas owned business. We believe in providing personal, comprehensive residential lawncare service. We like to say "Greener lawn. Happier you." 972-727-9207 for a fast , free phone quote.
---
Google 5 Star Review, Grand Prairie (check out our 200 plus Google reviews)
"Very pleased with the service. My grass has been looking 95% weed free." – Lorriane B., Grand Prairie Weedex Customer
Best Picks Report Reviews (Weedex has been selected "Best Pick for Lawn Care" for 12 consecutive years)
"My lawn is greener and without weeds. Weedex calls and comes when they tell you they will, no hassle no problems." – Jonathan H., Grand Prairie Weedex Customer
"My lawn has never looked better!" – Lorraine B.
---
Grand Prairie homeowners want green, plush turf grass. Hiring a professional lawn service to prevent weeds and fertilize your lawn is one way to enjoy more freedom on your weekend. Our motto is "Greener lawn. Happier you."
We want your feedback and we guarantee our award winning service. Because we are based in Lewisville, we are always in your neighborhood and ready to answer your lawn care questions. (972) 727-9207