Weed Control and Lawn Fertilization in Fate, TX
We know weed control and and lawn fertilization in Fate, Texas. Whereas, large, national companies have most likely never even heard of the small town of Fate. Nor have they probably ever seen an armadillo or the damage they can do rooting for grubs in your lawn. Weedex Lawn Care, on the other hand is local. We have been serving the lawn treatment needs of homeowners in North Texas communities for over 20 years. Our technicians know the type of weeds in North Texas and how to control them. We also lawn fertilization services needed for the turf grass homeowners have in Fate, Texas. We can even handle the grub problems that attracts foraging armadillos to your lawn. Watch our video in the provided link.
Tired of trying DIY lawn care with limited results. Let Weedex Lawn Care do the heavy lifting with pre-and post emergent weed control treatments to control your tough Texas weeds. Our technicians will also fertilize your lawn at the optimal times throughout the year getting your turf grass greener, more lush and healthier. By treating your lawn every 4 to 6 weeks we vigilantly monitor and report back to you on issues we see with weeds, fire ants, lawn disease etc. that are a menace to your lawn. We will recommend proper action, including specialty treatments if needed. After our 8 part, annual treatment program, You and your neighbors in Fate will love your lawn. Your satisfaction is guaranteed. Call us for a fast, free quote (972) 727-9207
We are a locally company and locally owned. We understand the extreme weather conditions, hot and cold, that your Texas lawn must endure. Our customer communication is second to none. Our staff is dedicated to nurturing your lawn and defending it from annoying weeds, to make your Fate, Texas lawn the best it can be. We stand by our motto – "Greener lawn. Happier you." Check out our reviews and see for yourself.
---
A few quotes from our 200 + Google reviews
"Weedex has taken good care of my lawn for the last 3 years. My lawn looks much healthier!" – Dennis S.
"Punctuality, Quality, Responsiveness, Value" – Monte B.
Look over our 170 plus Google Reviews!
---
For 12 consecutive years, Weedex has been a lawn care "Best Pick" by Best Pick Reports!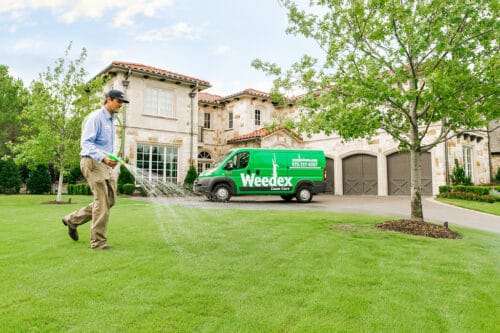 Specialty Lawn Treatment Services
Are you ready to let our weed control and lawn fertilization pros help you get the green, healthy, lush lawn for your home in Fate that you always wanted? Remember, "Greener lawn. Happier you. " Satisfaction Guaranteed. Call today for a fast, free, quote!