Rockwall Weed Control and Lawn Fertilization
We tackle Rockwall weed control and lawn fertilization with the best products and expertise to keep your lawn greener and looking good. Our Rockwall lawn care treatment service is customized for Texas lawns; no long-term contract! We want you (and your neighbors!) to love your lawn. Like or slogan says "Greener lawn. Happier you."
Google 5 Star Review – Weed Control and Lawn Fertilization
"Weedex has really transformed my lawn! I could never keep up with all of the required fertilizer treatments and I never knew what to use for weed control, but Weedex definitely know their stuff. They've gotten rid of all my weeds and they keep the grass looking nice and green. Also, the guys that come out to treat the lawn are very professional and friendly. I highly recommend Weedex." – Jerry C., Weedex customer
Rockwall weed control and lawn fertilization services should be handled by local experts not some national lawn care treatment program. We provide eight (8) treatments annually to feed your turf grass and control weed in your Rockwall lawn all year long. Weedex is locally owned and operated. Our staff has been providing lawn treatment services to North Texas homeowners for more than 20 years!
Weedex has been selected as a "Best Pick" for lawn treatment services for twelve (12) consecutive years with Best Pick Reports. We have a A+ rating with BBB and a 4.5 rating on Angi. Doesn't your lawn deserve some TLC from a lawn care company based right here in North Texas? Call (972) 727-9207 for a fast and free quote.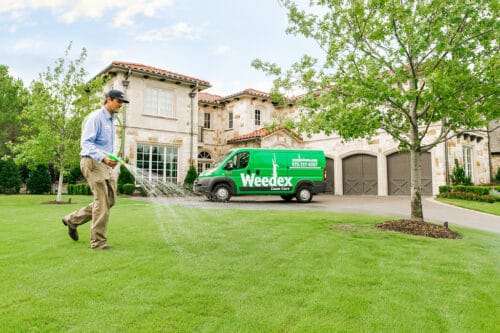 ---
Looking for specialty lawn treatment services for your Rockwall lawn?
Get started today with your Rockwall weed control and lawn fertilization service with a fast, free phone quote at (972) 727-9207!
Be sure to check out our informative lawn videos on our YouTube channel.