Princeton Lawn Treatment Service
Local Experts for Princeton Lawn Care
Get a greener, healthier lawn whether you have Bermuda grass, St. Augustine or Zoysia. We are your local experts for Princeton lawn treatment service and for surrounding cities in the Dallas-Ft. Worth metroplex. Keeping your yard free of grassy weeds and lawn pests shouldn't take time out of your busy schedule. With our regularly scheduled visits, we fertilize and treat weeds at the optimal time, so your yard looks healthy. Your Princeton lawn will be greener and weed-free with our award wining lawn treatment services. Call Weedex today for a free quote (972) 727-9207. Ask about our hometown hero and senior discounts.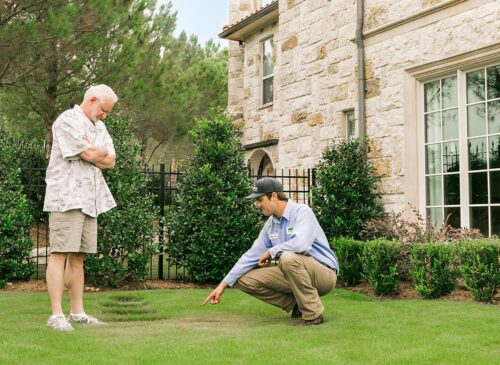 ---
Best Pick Reports, 5 Star review, lawn treatment customer in Princeton, TX (over 200 Google reviews)
"My service rep is always willing to provide a consultation if needed. We had an occasion where I was out of town and he could not get to the backyard. They were kind enough to come out and reschedule that within an appropriate time for us." – Judy M. Princeton, Texas
Check out some of our other amazing customer reviews on Best Pick Reports and Google. Quality service and great customer feedback earned us a "Best Picks" for 12 consecutive years by Best Pick Reports. Weedex Lawn Care has also earned an A+ rating with the Better Business Bureau.
We will service your lawn in Princeton every 4-6 weeks, with our basic lawn treatment program. We fertilize your turf grass and control common weeds. Get personal, professional service from a local company with award winning service. Get a free, fast quote by phone at (972) 727-9207
---
We also offer Specialty Lawn Services:
Ornamental tree and shrub care. Our lawn care experts fertilize your trees and shrubs. This treatment guards against insects and disease. This program includes seven (7) treatments throughout the year.
Dallisgrass control Dallisgrass is often incorrectly called Dallas grass, maybe even more so in north Texas and other parts of the state of Texas. Along with nutsedge and King Ranch Blue Stem, dallisgrass is one of the more difficult weeds to control.
Nutsedge control services. Do not pull nutsedge from your lawn, doing so will make it spread even more. Treat it, don't pull it!
Lawn core aeration, North Texas soil types are clay based and compact easily. Soil compaction prevents water, air and nutrients from reaching your root system. Your lawn will be thicker and more resilient with annual aeration. Core aeration creates thousands of small holes in your soil to help water, air and nutrients to reach the root system of your turf grass. Aeration is a cost-effective, earth-friendly way to get a stronger root system and healthier, thicker grass.
Surface feeding insect control for chinch bugs, one of the most destructive lawn insects of St. Augustine in Texas. Bermuda mites are specific to Bermuda grass and found throughout North Texas.
Annual fire ant control program. Fire ants are common in North Texas. Typically, treating a mound will only make them move to another spot in your lawn. Call us at 972-727-9207, for a professional grade fire ant control solution for your entire lawn that controls them all year long – guaranteed!
We love DFW because we also live right here in North Texas. Princeton Lawn Treatment services should come from local experts. Our main office is Lewisville, so when you call us for a free quote or service, you won't be shuffled to a national call center. Like our slogan says "Greener lawn. Happier you."
Call us now to get your fast, free phone quote for your Princeton Lawn Treatment services at (972) 727-9207
Weedex lawn care services are also available in Fairview, Lucas, Lavon, Melissa, McKinney, Garland, Wylie, Murphy, Parker, Plano, Richardson, Frisco, Trophy Club, Lewisville, Denton, Savannah, Arlington, Addison and most other cities across the Dallas Fort Worth metroplex.
Find us on Facebook, Twitter and our Youtube Channel.