Euless Lawn Fertilization and Weed Control
Euless Lawn Treatment Experts
You want green, plush turf grass at your Euless home; but it takes a time and patience to do it yourself. We want you (and your neighbors!) to notice a greener, healthier, weed-free yard. At Weedex Lawn Care, we like to say "Greener lawn. Happier you." We are a local, family owned company based in Lewisville and we know Euless lawn ferritization and weed control. We have been serving the lawn treatment needs of Euless homeowners for over twenty years.
Google 5 Star Review, Euless, TX
"Good people doing good work. Always on time, quick and efficient. They always follow up when finished to explain their work and suggest additional services available." – David L., Weedex Customer, Euless, Texas
Be sure to check out our other 200 plus Google reviews.
Our annual program consists of eight (8) lawn treatments throughout the year. We fertilize and control weeds specifically for the type of turf grass and weed issues that we deal with in Euless and North Texas. Our technicians are very knowledgeable on Bermuda, St. Augustine and Zoysia as well as the types of lawn fungus and insect issues that can affect these types of turf grass. Your lawn is monitored with each visit. After we treat your lawn, we provide you with a detailed report of our findings and recommendations to keep your Euless lawn lush and healthy.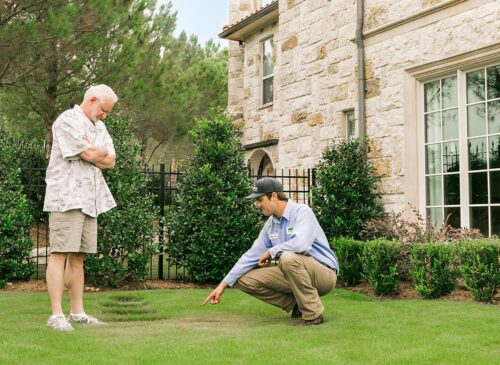 ---
Weedex has been selected "Best Pick" for lawn treatment 12 consecutive years by Best Picks Report.
"Clearly defined scope of work and work performed. Detailed documentation of work performed. Prompt notification of application treatments. Excellent customer service" – Dennis M., Weedex Customer, Euless, Texas
Our no-hassle free quote will get you started.
We are your Euless lawn treatment specialists for:
We provide personal, comprehensive residential lawn fertilization and weed control services in Euless and over 100 cities in North Texas. We take care of your routine lawn service so you don't have to worry about adding another chore to your lawn care schedule.
We value our customers' feedback! We are based in Lewisville and serve the Dallas Fort Worth metroplex, so we are always in your Euless neighborhood.