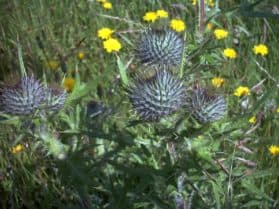 After an unusually mild winter, North Texans tend to notice excessive weeds in their lawn. Typically, multiple "hard" freezing temperatures inhibit the growth of new weeds the following season while warm winter temperatures typically result in more spring weeds. This causes frustration for everyone involved in the lawn care process. There are a couple of things to help control weeds in your yard after a mild winter.
---
Water-in your herbicide:
After applying a weed control product, lawns need at least 1" of rainfall or irrigation; less than 1" of water will yield undesirable results. Schedule the irrigation system to run 3 or 4 cycles after the herbicide treatment. Pop-up heads should run 10 minutes per cycle and rotors run 20 minutes per cycle.
It's not possible to eradicate every weed with a single product. Get your money's worth from your herbicide treatment by watering your grass on the next available watering day. This helps deliver the herbicide to the root system and halt the growth of new weeds.
Note: Watering St. Augustine grass at night can promote fungus.
---
Mow Weekly:
Frequent mowing inhibits the weed's ability to multiply because it stunts the weed's life cycle. When excessive weeds are rampant across the lawn, make sure to mow on a weekly basis.
Recommended mowing heights:
Bermuda grass should be 1" – 2".
St. Augustine should be 2.5" – 3" in full sun and 3" – 3.5" in the shade.
---
Excessive Weeds, Professional Lawn Treatment by Weedex
If you are looking for professional, guaranteed results for your DFW lawn, call us and ask about our special savings for new customers. A free quote can get you started with year-round lawn treatments to control weeds and get greener grass.