Is that fungus in your St. Augustine grass? Yikes! If you are frustrated by straw-colored or brown patches on your lawn, we feel you. Our lawns should be a place of relaxation and enjoyment, not a host for a lawn fungus! Let's figure out how you can get a greener lawn and control any lawn fungus you may be dealing with in your St. Augustine grass this year.
There's nothing more irritating than caring for your lawn all winter, prepping your St. Augustine grass for the warmer months, and looking forward to that lush green lawn, only to see fungus in your St. Augustine grass come spring! However, springtime and the fall season sets your lawn up to be vulnerable to several kinds of lawn fungus due to rapid temperature changes. As we know, that is not the lawn you've been dreaming of all winter long! Take-All Root Rot, Grey Leaf Spot or Brown Patch fungus in your St. Augustine grass may be develop in your lawn. The good news is, there are ways to treat these problems!
Are you doing your own lawn care? There are several things to be aware of this spring when it comes to avoiding or lawn fungus in St. Augustine grass. If you do not have the problem already, let's make sure you're equipped to prevent any type of fungus from invading your beautiful lawn this season!
Before we get into the DIY tips, let's first find out what we are dealing with here.
---
What is St. Augustine Fungus?
St. Augustine fungus is unfortunately common in lawns, especially in the spring season. Some of the top fungi that we see in St. Augustine grass are take-all rot, brown-patch, and Grey Leaf Spot. With the proper attention to treatments, grass fungi can be controlled. Let's take a closer look at each of these fungus diseases.
Take-All Root Rot
Yes, this form of lawn fungus is as icky as it sounds! This type of grass fungus can affect St. Augustine and Bermuda grass. When this fungus affects bermuda grass it is often referred to as bermudagrass decline. Take-all root rot can form circular patches of brown, dead-looking grass. If you see patches of straw-colored or brown grass, you may have a case of take-all root rot on your hands! Know that chinch bug damage can also look very similar to take-all root rot but it requires a very different treatment. It is best to call a expert, like Weedex Lawn Care, to diagnosis your lawn to insure the problem is identified correctly lawn issue. If you misdiagnosis the problem, the damage could spread and you risk losing your entire lawn.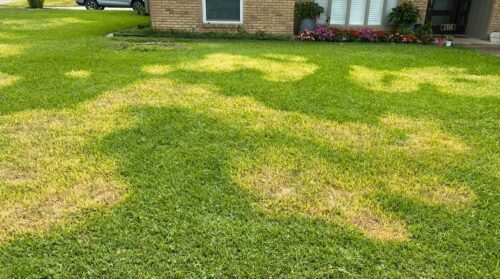 This type of fungus infects the stolon, nodes, and roots of the turf, ultimately causing them to die. Oh no! Don't panic, though— there are treatments for take-all root rot. If you want to try it yourself, you'll need a good fungicide treatment to suppress the St. Augustine grass disease or the bermudagrass decline. You will also need to do a topdressing with peat moss. It can be a delicate balance to figure out what exact treatment is best for your lawn. Take out the guesswork and call Weedex Lawn Care for a free estimate! (972) 727-9207
Brown Patch
Nothing like stepping out onto your lawn to enjoy your Saturday, expecting lush, green, dense grass, and having a thin layer of brown grass poke your feet! Luckily, our expert lawn technicians at Weedex are just a phone call away! Let us tackle this frustrating problem for you. Call (972) 727-9207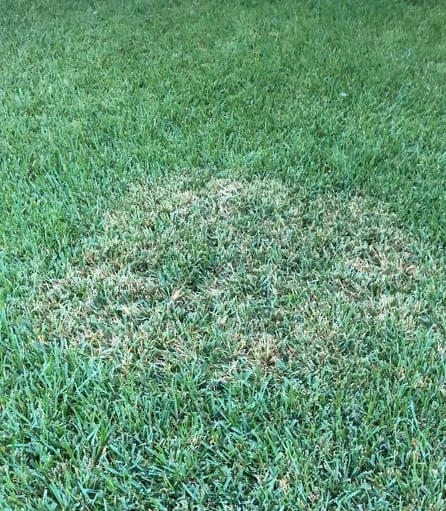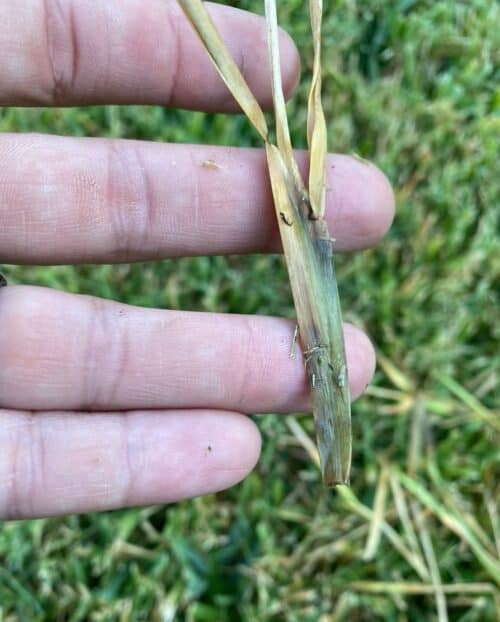 Ugh, not this again! Brown patch commonly occurs on the fall in north Texas. Very warm weather with high humidity are favorable conditions for this fungus to spread and become visible. Moisture on the grass blades caused from dew or rain can fuel the increase of this fungus disease. If you see ugly brown patches in your lawn that are either circular or irregularly shaped, it might be brown patch St. Augustine fungus.
Grey Leaf Spot
This St. Augustine grass disease is a mess! If you're trying to decide if your lawn is infected with grey leaf spot, take a close look at the blades of grass in your lawn. You will notice oblong, grey-to-ash-brown lesions on the grass blades.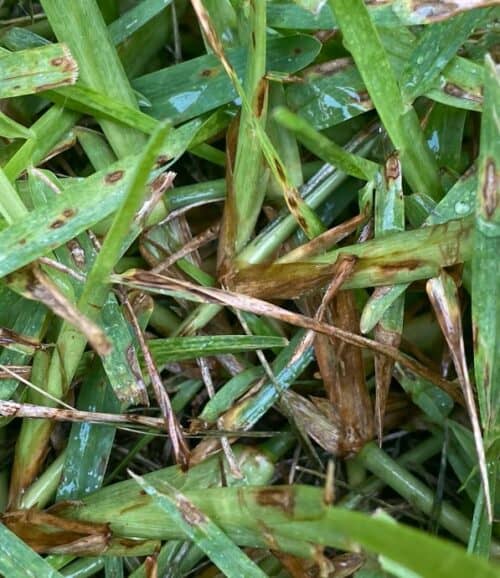 If this fungus is turning your lawn brown, it's definitely time to apply a good fungicide treatment and top dress with peat moss! If you have the right combination, you may be able to halt the disease. Remember that Weedex Lawn Care gives free estimates! Give us a call today if you suspect your lawn is infected with Grey Leaf Spot! (972) 727-9207
---
St. Augustine Lawn Fungus can be Controlled
If you have lawn fungus in your St. Augustine grass, you might feel like throwing in the towel. Don't panic when you see those thin, brown patches creeping into your yard because as annoying and lawn devastating as lawn fungus can be, it actually can be treated and controlled!
There are several ways you can treat your lawn to inhibit the spread of lawn fungus, as well as stop lawn fungus that is already infecting your grass. The two biggest factors here are having timely applications of a good fungicide and ensuring that your lawn is being properly watered. Seems simple enough, right? It can be! However, it does take some effort and expertise to figure out exactly which fungicide is best for your St Augustine lawn. You need to find the right balance of water to keep your grass green and lush without overdoing it.
When given proper attention, water, and treatments, your lawn will thrive! There are things that you can do yourself to figure out what could be causing the fungus you see affecting your lawn. There are also treatment programs that you can have a professional lawn care company come out and apply for you. Before we look at preventive measures, let's look at common causes of fungus you see in your St. Augustine grass!
---
Fungus in St. Augustine Grass Causes
What causes fungus in St. Augustine grass? If you are anything like us, your lawn is pretty important to you. We enjoy our lawns in many different ways, whether it's relaxing in the back yard while our kids play in the grass, watching our pets run and play, or just enjoying the view out of the front window of our lush green lawns. As with anything that we consider important, caring for our lawns takes a high priority on our to-do list! If you are concerned that your St. Augustine grass might be infected with a disease or fungus – don't wait. It's time to either call in a professional lawn service (hello!) or try to DIY to remedy the problem.
Here are the three most common causes of fungus in St. Augustine grass.
1. Over-watering your lawn, or certain areas of your lawn, could be causing a lawn fungus to thrive! When you have standing water, it can promote the growth of a lawn fungus.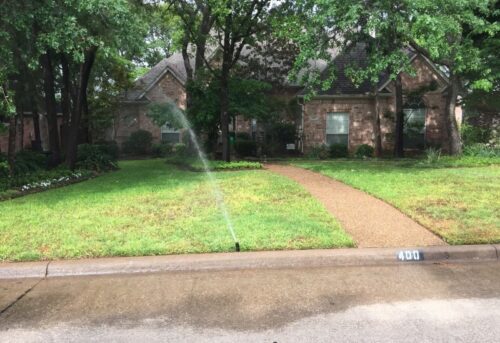 2. Change in temperature is also a cause! The spring season is a big culprit for lawn fungus in St. Augustine because of all of the ups and downs in temperature. While we love to think of spring as a time of growth and blossoming (which it is!), it's also a good time to check your lawn for lawn fungus and lawn disease.
3. The fungus can often spread from a neighboring lawn that is infected with a lawn fungus disease.
At Weedex, we have a biannual program that treats your lawn at the perfect times to support a greener, healthier lawn. We can help you keep that lawn fungus in check! We apply our fungicide at the best times for your lawn, working to control any spring lawn fungus with no guesswork for you. Call us today for a free estimate! (972) 727-9207
---
St. Augustine Grass Fungus Treatment
Let's take a look at some of the ways that you can change your lawn care habits in order to optimize the health and growth of your St Augustine grass while also looking out for and/or treating any lawn fungus or diseases that could be infiltrating your yard.
Are you trying to treat your lawn infected with a St Augustine fungus? Here are some of our pro tips that you may want to keep in mind when trying out treatments for St. Augustine grass fungus!
Smart Watering
This one can be tricky to master but so effective when trying to avoid fungus in your lawn! Let's talk about top tips for watering your grass in the most effective and efficient way so that you don't end up with any lawn fungus and you don't break the bank with your water bill. Sounds like a win-win, right?
When watering your lawn, you want to make sure that you do not drench your yard to the point of pooling or building up standing water in any area. Standing water invites lawn fungi to move right in! In order to avoid pooling in your lawn, you will need to be very precise and strategic with your watering plan.
Do you have a rain gauge? A rain gauge is actually an important tool when you are trying to figure out for yourself whether your lawn is being under- or over-watered. When you are setting your sprinkler system to give your lawn an even covering of water, you need to know exactly how much it is getting! Since the required amount of water for St. Augustine is 1 to 1.5 inches per week to maintain health and support growth during the growing season, it's crucial to make sure your lawn is getting what it needs exactly. If you don't have a rain gauge to measure it, however, you can DIY it with an empty can!
---
Bonus Pro Tip: How to make a DIY water gauge:
Take a clean, empty tuna size can and set it in your yard. Run your sprinklers on their current setting. Once they're done with their cycle, take a ruler, and measure how much water is in the can. If it says anything over 1 to 1.5 inches, you may be overwatering your lawn! This can lead to the development of one of the pesky lawn fungi that we have been talking about. No, thanks! With this information, adjust your watering settings to ensure your lawn is being quenched without pooling. Using this water gauge test can also determine if your sprinklers are properly covering the areas of your lawn. Some sections of your lawn could be getting too much water, and other areas may not have enough water.
Fungicide Treatment
Finding the right fungicide treatment for your lawn can be a crucial step in tackling a St. Augustine grass fungus! Fungicide treatments help to stop the disease in its tracks. When you apply a fungicide treatment to your lawn, it stops or kills the fungus causing the lawn disease. Applying a fungicide treatment can help you control the spread of the St. Augustine lawn fungus before it infects more of your yard, as well as controlling the disease where it has already infected your lawn. There are many fungicide treatments on the market, and some treatments are only available to professionals. If you are feeling a bit overwhelmed, give us a call at Weedex, and we can take care of it for you! (972) 727-9207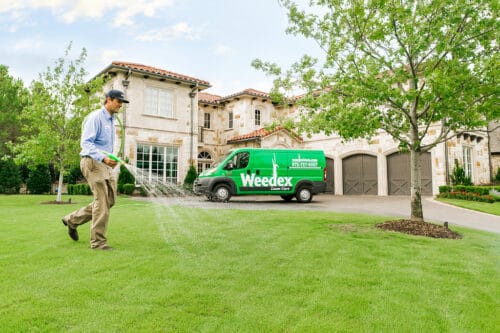 Call in a Professional
Is your lawn fungus getting a bit out of control? Don't worry, because even if the brown patches and dead, thin turf is starting to freak you out, St. Augustine lawn fungus can be controlled! At Weedex Lawn Care, we have a professional fungicide program specifically designed to help control spring lawn fungus, as wells, summer and fall fungi to promote a healthier, greener lawn. Our bi-annual fungicide program takes the guesswork out of you having to get the right products for your lawn.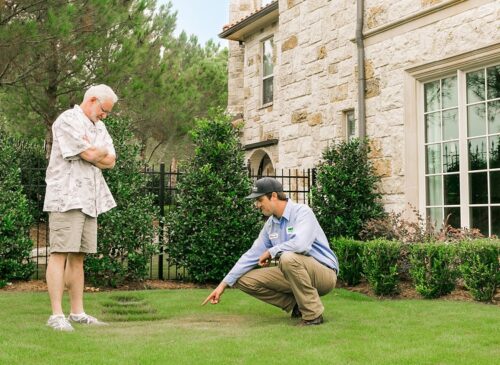 Expert lawn care technicians will visit your lawn in the early spring and fall to apply the perfect fungicide for your St. Augustine grass. Our treatment will to control, prevent, and treat lawn fungus before it can take over your lawn. Sometimes, it's nice to sit back and relax while the professionals take care of your problems for you! If you'd like to get a free estimate give Weedex a call right now! (972) 727-9207 Our slogan is "Greener Lawn. Happier You," satisfaction guaranteed!
---
St. Augustine Grass Diseases
We have now covered some of the most common spring lawn fungi in St Augustine and ways you can water your lawn in the smartest way in order to avoid pooling. Remember fungus can happen in late summer or the fall season as well. At the first sign of fungus, call an expert, like Weedex Lawn Care, for professional treatment programs that get results. This knowledge should make you feel more confident in caring for your lawn! Remember, you are looking out for brown patches, yellow patches, thin turf, circular patches, and straw-colored spots of grass. These might be indicators of a disease or fungus in your St. Augustine.
Inspect your sprinkler system to determine if you're overwatering your lawn or if water is pooling in areas. To do this, we suggest that you avoid watering at night when pooling water is harder to see! Lastly, either apply a fungicide treatment or call a professional company. Weedex is here for you! Like we always say, greener lawn, happier you! Let us help make your lawn greener and your life just a bit happier if we do say so ourselves. Call us now for a free estimate for your lawn care needs!