Looking for the best lawn care in Wylie, Texas? Look no further than our wonderful lawn care service team here at Weedex! We can tackle all kinds of lawn issues, whether you have a problem with unsightly weeds springing up in your lawn, brown patches in your grass, or just a thin, sad looking turf! Our expert lawn care technicians will identify the root of the problem, no pun intended! Our team will have you enjoying a greener Wylie lawn— satisfaction guaranteed.
Landscaping Wylie, Tx
Ornamental trees and shrubs can take a lot of upkeep, if you want them to look their best! At Weedex, our ornamental tree and shrub care program will maintain the beauty of your lawn's trees and shrubs, all while protecting them from the elements. Our tree, shrub technicians service Wylie homeowners' properties on a regular basis.
Insects and diseases can wreak havoc on the trees and shrubs in your lawn. It's not only turf grass that needs protection from weeds, disease, and pesky insects! That's why we offer our yearlong tree and shrub care program. Throughout the year, our knowledgeable Tree Shrub Technicians will visit your property seven times to properly care for you trees and shrubs.
Did you know that trees and shrubs require seasonal maintenance? That's right— they're needs change depending on climate, region, and time of year!
Here is a timeline of our tree and shrub care services throughout the year:
---
Tree and Shrub Care Program:
Winter Dormant Oil Treatment
During this treatment, we start off by protecting your trees and shrubs with a specialized landscape oil. This is especially important in the winter season to keep damaging insects away from your trees and shrubs! Even insects that are currently harboring in your landscape waiting to emerge in the spring to damage your plants will not survive this treatment. Bye-bye, pests! Time Frame: January – February
Spring Feeding Treatment
The beautiful plants in your lawn deserve to be nourished! During this treatment, we drench and inject your ornamental trees and shrubs with a slow-release, well-balanced liquid fertilizer. This carefully selected product will help those plants recuperate from the cold winter months, creating a greener, healthier landscape! Your landscape will need nutrients in order to thrive, especially throughout the growing season. Our fertilizer gives your landscape everything it needs to survive and thrive in this transitional season. Time Frame: February – March
Spring Insect & Disease Control
Uh-oh, cool and damp spring nights can be a breeding ground for diseases in your landscape! Springtime is a lovely season that makes us want to enjoy the outdoors, but it's not so pleasant when your trees and shrubs are being overtaken by disease. To stop this from happening to your landscape, our tree, shrub technicians spray your trees and shrubs to protect them against these diseases — and keep those annoying insects at bay, as well! Time Frame: April – May
Summer Insect & Disease Control
Ahh, the sounds of summer… lawn mowers buzzing, cicadas singing, and all of those insects damaging your trees and shrubs! Let us get rid of the damaging insects for you during our summer insect control visit. We spray your trees and shrubs with a specialized product to control and prevent insects such as aphids, before they can do all of their damage. It's also time for another well-balanced, slow-release fertilizer! Since fall is coming, your landscape will need a little help greening up and staying green through the rest of the hot, dry summer, and into the beginning of autumn. Time Frame: June – July
Late-Summer Insect & Disease Control
Late summer, it's time for a second insect control treatment! If left untreated, insects can really cause a lot of expensive damage to your landscape. Instead of going through the hassle and headache of dealing with the aftermath, let us help prevent the damage in the first place with this second insect and disease control treatment. We truly care about the health and visual appeal of your lawn and landscape! Time Frame: August – September
Fall Insect & Disease Control
Its early fall, and that means it's time for one last spray down for your trees and shrubs! This will control those damaging insects, as well as protect your landscape against fall diseases. We don't want to let your landscape become damaged before the cold winter! Time Frame: October – November
Fall Feeding Treatment
This one is crucial for creating a healthy base to your landscape plants! Healthy roots, healthy plants— at this visit, we inject a slow-release fertilizer straight into the root zone of your trees and shrubs. This fertilizing treatment will prevent winter damage, encourage healthy growth, and help your plants green right up in the spring! Your plants will thank you later. Time Frame: November – December
**Dallisgrass and nutsedge are the only two weeds that require specialty services. There is a separate charge for each type of specialty service that is needed. This usually requires two treatments, and they are covered by the specialty service.
**We always provide easy to follow instructions to ensure the best results from our services.
Please follow these directions to care for your lawn between treatments.
---
Dallisgrass
Dallisgrass— what a pest! If you have had dallisgrass infiltrate your Wylie lawn, you likely know what we're talking about. This is one stubborn weed, but luckily, there are ways to prevent and remove it for the most part!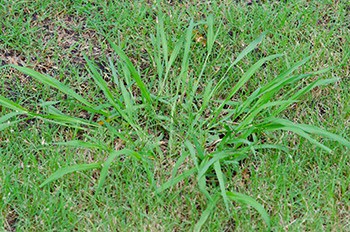 If you need dallisgrass removal in Wylie TX, don't waste any time. Call Weedex today to get your free estimate and let us to the hard part for you! We have all of your Wylie lawn care needs covered. (972) 727-9207
Want to take a crack at removing the dallisgrass yourself? Here are a few ways to prevent it, as well as the best way to remove dallisgrass weeds from your Texas lawn:
Mow regularly. This may seem like a strange tip, but if you think about it, dallisgrass spreads by sprouting seed heads, which then get distributed across your lawn. If you can prevent the seeds from coming to head in the first place by keeping your lawn cut short, then you can prevent or at least greatly reduce the spread of dallisgrass weeds. Try to set a mowing schedule of once a week. That should be enough to keep the weeds from developing their seeds!
Carfefully apply a good non-selective herbicide or call Weedex Lawn Care and ask about our Grassy Weed Program. The world of lawn care products is a bit overwhelming, but dallisgrass can be treated with the proper products. Since it is a stubborn weed, we don't recommend relying on just a pesticide to control your dallisgrass. If you want to get rid of it, the best way may be the next way— just get ready to put in some elbow grease!
Dig it up! Yep, that is the most effective, yet most difficult way to control the dallisgrass in your lawn. Annoyingly enough, you have to ensure that you dig up the entire root system. If you leave any roots behind, they can quickly grow the stalks and seeds right back, rendering all of your hard work useless! We don't want that! Try to grab a wheelbarrow or large trash bag to dump the roots and weeds into after you dig them up so they can't spread further. You may want to dig up the surrounding dirt to make sure you get all of the roots.
If that all sounds a little bit intense or time consuming to you, just give us a call! Our friendly staff is ready to help you with all of your questions, and you can get your free quote today!
---
Lawn Treatment Services
When it comes to caring for your Wylie lawn, the list of things to do can be a little bit overwhelming! You want your lawn to be beautiful, green, and lovely to look at. It's your own mini oasis, right in your back yard. You definitely don't want to be stepping out onto your lawn on a Saturday morning, expecting the soft, luxurious green grass to feel like a cushion underfoot, and be stuck with prickly, dry brown grass! Even worse— you might step on painful weeds like thistle, stickers, or diseased turf grass. Ouch, and no thank you!
Let's start your weekend off on a better foot, by letting Weedex care for your lawn for you. Like we always say, greener lawn, happier you!
Weedex's lawn care treatment service plan includes eight treatments timed precisely throughout the year. During these visits, we tackle all of the current problems your lawn is facing, as well as future problems that can be prevented!
You can expect our friendly service technicians to service your lawn with great care and respect. Our team cares about our customers! You can rest assured that your lawn is getting quality treatments with our year-long lawn care treatment program.
During the year, your lawn will go through different phases of growth, as well as different needs depending on the time of year. For example, in the fall, it's time to prep your lawn and turf grass root system for cold temperatures throughout the coming winter. In the spring, your lawn may need a little help greening up! The summer is especially hot and dry here in Texas, so this will be the time that your lawn needs a little extra TLC to stay green and healthy. It's also prime weed time, so our expert lawn care technicians will tackle those visible broadleaf weeds, and the treatment program will prevent them from getting out of control in the first place!
See what we mean? It can get a little bit complicated to make sure that your lawn is getting exactly what it needs, and at exactly the right time, all year long. And that's not even factoring in your busy schedule! Let us take the work off your hands, and help you get a greener and happier lawn.
---
Weed Control Service Near me
If you need a weed control service in Wylie, Tx, you have come to the right place! Whether you have weeds currently overrunning your lawn, or if you just want to make sure you are taking the right steps to prevent them from springing up out of control, Weedex Lawn Care has your back.
We take weed control to the next level. Weedex doesn't just wait for weeds to show their ugly heads before we treat them. We plan out a strategic weed control plan for your lawn, which we implement in eight treatments throughout the year. If you have broadleaves in your lawn, we will come out and give them a spot treatment. Our technicians also apply pre and post emergent on your lawn at strategic times throughout the seasons to control current weeds, while preventing next season's weeds from germinating and running wild! We're all about planning ahead and giving your lawn the best chance to thrive.
Texas has plenty of weeds to worry about, but one thing you can do to help prevent the growth and spread of them in the first place is to keep a thick, healthy lawn! Many people don't consider the thickness of their turf grass's root system when thinking about weed control and prevention. The truth is, however, that a thick root system can help to choke out unwanted weeds before they have time to spring up!
Your lovely grass and unwanted weeds are all competing for the limited supply of water, sunshine, and soil nutrients in your lawn. If you can thicken up the root system, you are essentially growing a shield of armor for your lawn! Growing a thick, lush, and dense turf grass can be one of the most effective ways to prevent future weeds from taking hold in your lawn. Sounds good to us!
In order to grow your turf to be thick and healthy, you may want to find a good, slow-release, well-balanced fertilizer to your lawn on a regular basis. If you are a Weedex customer, you can rest assured that the perfect fertilizer for your region, type of turf, and the season is being applied on schedule to grow the greenest grass possible!
Call Weedex today to get going on your green lawn journey and let us take the hard work out of your yard work! Call now for a free quote. (972) 727-9207 Happy gardening!