Looking for lawn fertilizer companies near me? You have come to the right place! At Weedex Lawn Care, we have all the right tools and equipment to make your lawn a place you never want to leave. Who needs to go off on a fancy beach vacation when you have your own private luxurious lawn to lay out on, anytime? With no long-term contracts, unlike some of the big-name lawn fertilizer companies you might think of, you can feel secure giving our lawn care system a try. You won't be disappointed in how your lawn improves! Call us today to get started feeding your lawn with the nutrients it desperately needs and get your best lawn yet. It is always best to choose a lawn fertilizer company near you. We are locally owned and operated to provide you with the best lawn care service in north Texas. Our slogan is "Greener Lawn. Happier You." and your satisfaction is guaranteed! (972) 727-9207
---
Lawn Fertilizer
Why do you need to treat your lawn with a rich lawn fertilizer? When you want a beautiful, lush, green lawn (who doesn't?), sometimes relying on nature is not quite enough. Nutrients required to enrich the soil and encourage new grass to continue to grow can be lost in your soil. They can leach through the soil or get bound up in the soil structure. When that happens, your grass may not be as thick and green as you'd like.
Imagine your lawn to be a living creature. Since plants are living things, this won't be too much of a stretch! However, while many people consider plants to grow and thrive off of sunlight and water alone, sometimes that is just not enough. Plants (including turf grass and all types of grasses and lawn plants you may have in your yard) require nutrients, much like we do! While we're not suggesting you need to cook a meal for your lawn, we do suggest using a slow-release lawn fertilizer to enrich your soil and help your grass grow as thickly as possible. You will be able to feel the difference when you step out on a spring morning onto your lush, soft, well fertilized lawn!
---
Best Lawn Fertilizer
What fertilizer should you use, you may ask? A slow release, well-balanced fertilizer is definitely the way to go. Does your lawn is look a little bit drab, maybe patchy or brown in places, or if your grass is growing sparsely? It's probably time to start thinking about a fertilization treatment plan. We will happily take the stress off of your hands! Our expert lawn care technicians will come out at key points throughout the year to treat your lawn. With a fertilizer formulated for your north Texas lawn, they will feed your lawn so it can grow greener and stronger than ever before. Fertilizers are created to work best for certain grass types and different seasons require different lawn fertilizer as well. This process can get complicated. It is best to let a lawn care professional handle your lawn treatment needs throughout the year. Our satisfaction guarantee can help you rest easy as you watch your lawn come to life! Remember "Greener Lawn. Happier You."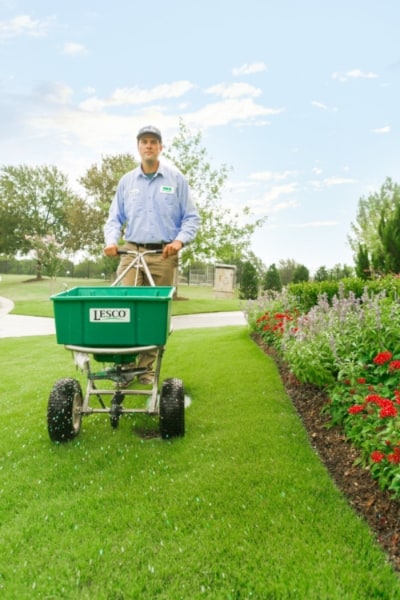 ---
Lawn Fertilizer Service Near Me
Feeding your lawn the best lawn fertilizer is not only crucial for the growth of new, beautiful grass, but did you know that it can also play a part in choking out unwanted weeds and yard pests? Our treatment program of course includes weed control, but even fertilizing your lawn can play a part in keeping weeds out. The more densely the good grass grows, the less room weeds have to infiltrate your lovely lawn! Nourishing your lawn can help your grass fully cover the area, leaving no foothold for those awful weeds to sneak in.
If your lawn already has dallisgrass, nutsedge, chickweed, or that poky thistle, don't be discouraged! Weedex Lawn Care is here to help. Our trustworthy lawn technicians will deal with the problem on the spot, providing the best weed control service in the area. Not only will Weedex come out and treat the current infestation of weeds, but we will cultivate an environment over time that supports the growth of fresh, green grass, as well as controls any future weeds and prevents them from popping up in the future. Sounds like a double win, right?
It's never too late (or too early!) to start treating your lawn to the best lawn fertilizer! Your grass is asking for some good nourishment, and Weedex is ready to deliver. Not sure what treatment is best for the time of year? Here is an idea of what Weedex will do for your lawn during each season!
---
Spring Lawn Fertilizer
Is it springtime? We all know spring as a time for new life, new growth, and new beauty in nature. When you step outside in the early spring, we want it to be straight out of a storybook: birds chirping, early morning dew dripping from the shrubbery, and soft, green grass beneath your feet. We're feeling fresh and excited just thinking about it! At Weedex, we understand the importance of treating your lawn to some extra nourishment during this time of growth. It's time to green up that grass from the cold winter months!
The Weedex lawn care service treatments include two perfectly timed visits to care for your lawn during the spring. First, let's tackle those weeds. Not only do we come out and treat your lawn for weeds, including a spot treatment for any stragglers, but we also provide treatments to prevent weeds from emerging before you can even see them sprout. We also offer a specialty service called core aeration. By placing thousands of tiny holes in your lawn we help your soil breathe, so it can absorb air, water and nutrients including fertilizer. Now, onto the fertilization! Weedex will apply an enriching, wonderful fertilizer for your hungry grass, helping it grow greener and stronger as the weather starts to warm up. Say goodbye to that brown winter lawn, and hello to being the envy of the neighborhood!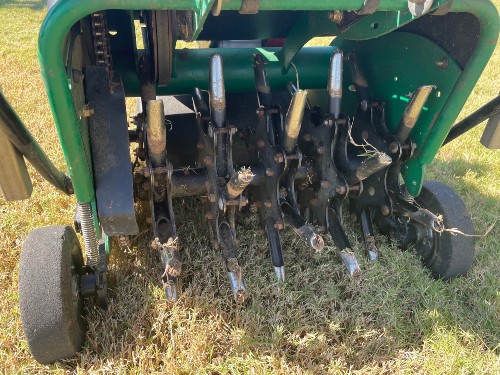 Later in the spring season, our Weedex lawn care technicians will make a timely return to nourish that lawn again. Yes, you will need two separate fertilizer applications, during the spring to ensure healthy, beautiful grass throughout the season! This fertilizer treatment also helps to prepare your lawn for the upcoming heat, and we all know how that goes in a Texas summer!
---
Summer Lawn Fertilizer
Ahh, summer— the time of year to stretch out in the back yard on a soft bed of lush, green grass! Oh no, is that grass feeling a bit sparse and poky? Let's fix it up with a summertime lawn fertilizer treatment.
We all know what summer means: hot temperatures and low water supply. Summer also means long days, backyard cookouts, pool parties, and more time for family fun! How can we make sure that our lawns are up for the party vibes, when the hot conditions are less than ideal? Weedex has a solution! Our hard-working lawn care technicians will visit your lawn three separate times during the summer season.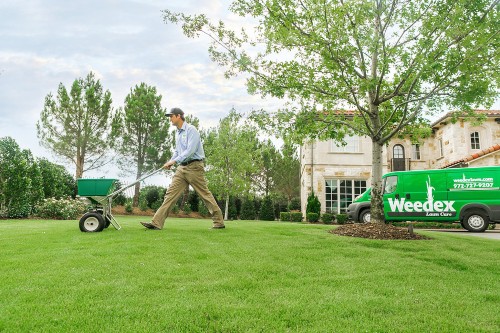 Early summer means it's time to prep your lawn for the heat and the limited water supply. Guess what that means? If you guessed a well-balanced, slow release fertilizer, you are correct! It's almost like you've been reading this article. Our technicians apply the perfect fertilizer for your lawn, nourishing and enriching it so that it can stay strong in the coming heat. The Weedex lawn care treatments also include the necessary weed control service as well. You can expect our technicians to also apply a spot treatment to any broadleaf weeds that may have popped up. During their visits, they will also check your lawn for any insect of disease damage.
---
Fall Lawn Fertilizer
Ooh, is that a chill in the air? If you're sipping on a pumpkin spice latte, it's time to apply another fertilizing treatment to nourish your lawn! The Weedex lawn care service treatments include two extremely important visits during the fall season. Of course, we will blanket spray a liquid weed control to extend winter grassy weed control and help control broadleaf weeds. Proper application of water per our service report that you receive after treatment is critical. The pre-emergent will not work properly and fall weeds will start to germinate if the application isn't watered in properly. But hey, we are talking about fall fertilizer here!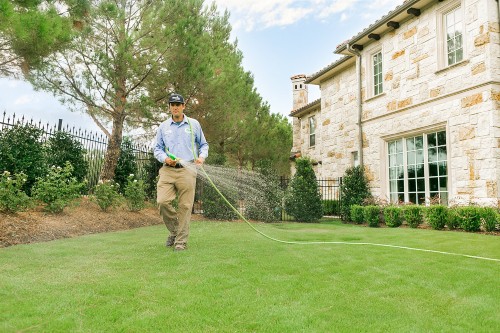 Fall is a beautiful season. All of the changing colors, falling leaves, and pumpkins everywhere really make you feel nostalgic! As we all know, it also can mean more yard work. Raking up piles of leaves can definitely lead to a fun activity for the kiddos (and a cute photo opp, we have to say!), but what about the soil underneath? We all know how those leaves can damage your lawn, but did you know that underfed grass in the fall can lead to winter weeds? Nourishing your lawn with a rich fertilizer is crucial in the fall to encourage a denser turf. Dense, thick turf can help to choke out any winter weeds wanting to sneak in! At Weedex, we also offer a liquid, soil-building treatment to increase fertilizer efficiency. This enhances the root system development, improving the growth of your turf grass, and strengthening your soil at the time that it needs it the most.
---
Fall Fertilization Balance
Fall fertilizer needs to be a specific balance for your north Texas lawn, as do the rest of your lawn fertilization treatments throughout the year.. When we treat your lawn with our Weedex lawn care treatment system, you can rest assured that your lawn is being fed a perfectly balanced and enriching formula to help bolster up your turf for the cold temperatures in the winter. You don't want to lose all of your lawn's progress when it starts to freeze at night! While Weedex provides excellent care to your gorgeous lawn, you can sit back and relax with a hot apple cider and some pumpkin pie. Are we making you hungry yet?
---
Lawn Fertilizer near me
Finding the right lawn fertilizer for your lawn can be a tricky process. Depending on exactly where you are, your soil may be short in one nutrient, while plentiful in another. If you aren't completely sure which fertilizer you should be applying, we don't blame you! Let Weedex find the right balance for your lawn. Our lawn fertilizer is always well-balanced, and our treatments are satisfaction guaranteed. We are proud to deliver the best products to your lawn while applying them with the expertise and precision needed to ensure your best lawn yet. "Greener Lawn. Happier You." Give us a call today to get the perfect lawn fertilizer applied specifically for the time of year, your location, grass type, and unique lawn. (972) 727-9207
---
Lawn Fertilizer Service
Now this is something we at Weedex know all about! We take your lawn seriously, and we believe that you deserve a greener, weed-free yard. Our fertilization service accompanies our top-of-the-line weed control treatments, making us a one-stop shop for all of your lawn care needs!
Lawn fertilizer treatments differ for many reasons. Different types of grass may require different nutrients. Location plays a large role in what type of nutrients may be lacking in your soil. Soil compaction can also affect your lawn's ability to uptake water, air and nutrients especially here in north Texas. As we have discussed, time of year is a also big factor in which fertilizer your lawn needs at any given time. It can be a lot to figure out and maintain on your own!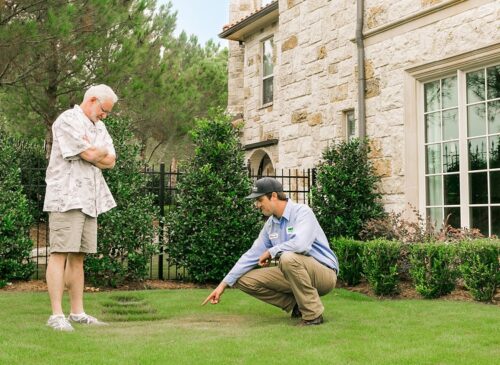 Lawn Treatment Programs
Weedex lawn care treatment programs will have you completely covered, no matter the issue. We plan ahead working to prevent problems before they even arise. We pre-treat for weeds with pre-emergent and spot treating broadleaf weeds on site. You are also provided you with a report after each visit describing the services we performed. Any issues we discovered during your lawn treatment or noted as well as mowing and watering instructions for you to help ensure the treatment programs works their best. If we notice any pesky lawn bugs like fire ants, chinch bugs, grubs or lawn disease like lawn fungus, during our regular checks, we have specialty services available to targets these specific issues. Possibly more importantly, however, we tackle problems ahead of time. Our nourishing, balanced fertilizer ensures that your turf grows thickly and strongly. Not only does this create the lush lawn you'll love to step on, but it also prevents other problems from arising! Dense turf can help to prevent fire ants, weeds, and other issues.
Let's think about how we treat our own bodies. When feed our bodies the nutrients we need, get sunshine and some nice exercise, we are likely to enjoy more health. If we don't take care of our bodies at all, we are likely to end up with some health issues that could have been prevented. Getting medicine from the doctor may help treat these diseases, but wouldn't it be nice to not get them in the first place? The same can be said for taking care of your lawn! Instead of only treating the symptoms or problems, let Weedex care for and nourish your lawn year-round so that you can enjoy your outdoor space, full-time.
---
Best Lawn Fertilizer Company
At Weedex Lawn Care, we provide you with the absolute best lawn fertilizer service in the area. Locally owned and operated right here in north Texas, we are a family owned business. We are so sure that you will love your beautiful lawn, we guarantee your satisfaction. We consistently receive high marks in customer ratings, year after year with Google, Best Pick Reports, and Angi. Our team is honest, hard-working, and passionate about cultivating the lushest, greenest lawns for our wonderful customers. We hope you will choose Weedex as your lawn fertilizer company, and give us the chance to transform your lawn to be greener and heathier, guaranteed! "Greener Lawn. Happier You." Give us a call today to get started on your best lawn yet! (972) 727-9207