Get the best return on your lawn care investment: mow weekly and stick to the suggested watering schedule for your area.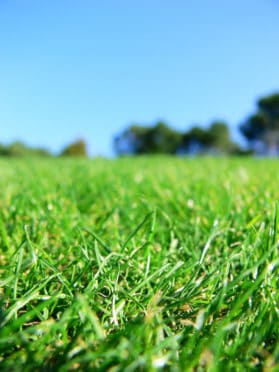 Weekly 'long' mowing stimulates healthy grass growth and can snuff out weeds. Mowing 'long' means you remove no more than 1/3 of the leaf's blade. Cutting the grass too short will kill the tips causing stress to the overall lawn. In the hot summer months, the longer grass blade will protect the roots from heat damage.
---
What Type of Grass Do You Have?
Different grasses grow to different heights. Find out what kind of grass grows in your lawn so you know the mature length of the grass. Mowing the grass at a longer length on a weekly basis is ideal for most grasses.
---
A Smarter Way to Mow
The job will actually go faster when you mow weekly. This is because the grass is already at a good height. Waiting two or more weeks means your mower blade will be bogged down in some areas. This will dull your lawn mower blade and damage the grass. This also puts stress on your mower's engine.
If you hire someone to mow your lawn, talk to them about setting up a weekly schedule. In most cases, they will give a discount if you sign up for more frequent mowings.
Raise the deck on your mower and never cut more than 1/3 of the grass blade.
---
Call us for answers to your lawn care questions
To receive the best return on your investment on lawn fertilization and weed control products, mow every seven days. We love to talk about North Texas lawns! Give us a call if you have questions on how to get a greener, more healthy looking lawn. Our scheduled lawn care treatments will keep your grass greener while controlling weeds throughout the year.
Stay connected with Weedex Lawn Care. Find us on Facebook and Twitter. Review us on Google.