While the summer weather is slowly changing to fall, we are already prepping north Texas lawns to halt weeds from popping up in the coming months. Over time, regularly scheduled lawn treatments and proper water coverage will break the cycle of reoccurring weeds so your fertilized grass can thrive. The result is fewer weed seeds distributed back into the lawn from the previous season.
A professional lawn care service provider should use the industry's best commercial grade products to prevent weeds from germinating, kill existing weeds, while also fertilizing your grass. With our late summer lawn application, we blanket-spray liquid pre-weed and post-weed control. If you have St. Augustine grass, we use a pre-emergent herbicide that is embedded with the fertilizer.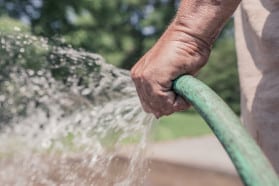 The key to making any lawn care application a success is watering each treatment with 1? – 1.5? of water.
Water moves the product from the surface of the grass to the root system below. We are aware of local water restrictions, so we use products that can sit on the lawn until your allowed watering day.
If you choose to do-it-yourself, consider creating a treatment regimen to monitor the proper application of herbicidal weed control and fertilizers. You need to calculate the size of your lawn and buy the appropriate amount of product. Your lawn may need a range of products for different types of weeds. Consider weather conditions, soil temperature, desired outcome and water restrictions before applying products yourself.
At Weedex, we apply seasonal herbicide products and fertilizers at the optimal times of the year. Timely application and adequate water coverage will boost your landscape's health in the coming months. Get a free quote for lawn care service or call our office with your lawn treatment questions.