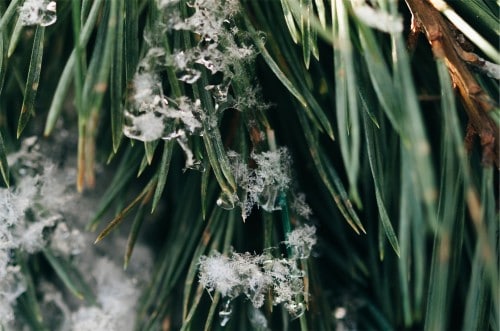 Although most shrubs and trees survive Texas winters, you should always be ready for a serious cold snap. Did you know frost damage to landscape plants can even occur with temperatures in the upper 30's?
Do not use plastic, such as tarps or plastic sheeting to cover plants. Plastic will transmit cold air to the plants, causing more harm than good. We recommend using cotton fabric or frost cloth to protect plants from frost.
Lightweight cotton fabric (i.e., bedsheets, thin blankets) will retain heat and provide frost protection for your plants. However, cotton can restrict the daylight reaching the plant and may become heavy when saturated with moisture. Because of this, it may be necessary to remove and reapply the fabric depending on the weather conditions.
Special frost cloths and blankets are designed specifically to protect against damage while allowing daylight and moisture to reach the plants. Frost cloths are available at local home improvement and garden stores for around $15. The advantage to using frost cloths to protect your plants is that the specialized fabric can stay on the plants longer because they are lightweight and breathable. Additionally, the cloths can be reused year after year to protect your plants.
Plastic tarps will transmit cold air to the plants, causing more harm than good. Use cotton blankets or frost cloths for better protection.
Your plants will continue to beautify your landscape for many years if you know when to cover your plants for freezing temperatures and what to use to cover your plants each winter.
Let us help keep your yard healthy. In addition to our regular weed control and lawn fertilization, we also offer specialized services for your yard. Our ornamental tree and shrub program includes treating your plants throughout the year. This service is customized for the specific plants and ornamental trees in your landscape.
Interested in our lawn care programs? Call (972) 727-9207 or request a free quote.