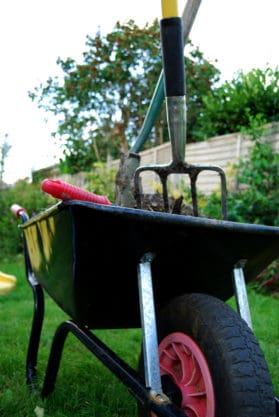 Healthy lawns have soil that thrives season after season. Since most North Texas lawns have poor soil quality, topdressing your lawn is an important, often overlooked lawn chore. By adding a modest layer of compost across your lawn you can improve the overall structure of your soil.
There are different types of topdressing you can add to your lawn, but compost is widely recognized as the best choice for turf grass. Adding compost to your yard is an environmentally friendly way to improve your turf grass.
---
What is Compost?
Compost is created from decomposing organic material, such as leaves or grass trimmings, paper, and vegetable/fruit waste. It creates a nutrient-rich material that is beneficial for lawns and gardens. Compost can be purchased from a lawn or landscaping supplier by the bag or in bulk.
Topdressing your lawn with compost adds organic matter to your soil and improves the overall structure of the dirt.
---
Top Dressing your Lawn with Compost
Spread about 1/4? of compost evenly across the lawn using a compost spreader or wheelbarrow and rake. Never top-dress the lawn with more than ½" at a time.
---
Benefits of Topdressing with Compost
Compost adds organic matter to your lawn's soil and improves the overall structure of the dirt. It works by boosting microorganism content within the soil which, in return, helps convert organic matter (such as fallen leaves) into nutrients that your turf grass can use.
Topdressing with compost helps reduce the effects of drought stress, disease, and insect damage. It helps maintain moisture within the soil and provides an ideal environment for grass seedlings to mature. Think of it as a protective, nourishing addition to your lawn.
Coupled with core lawn aeration, adding an effective top dressing to your turf grass is another valuable, earth-friendly way to boost your lawn. Through the season, the improvement will be visible as grass becomes thicker, greener and more hearty.
We'd love to provide personalized feedback on your lawn. Our basic lawn care treatment program adds weed control and fertilizer to your turfgrass throughout the year. It's easy to request a free no-hassle quote from us. We are locally owned and operated and we always guarantee your satisfaction.