Weedex knows weed control in Fort Worth. We also understand your lawn treatment service needs. Our locally owned company has served homeowners' lawn care needs in Fort Worth and the Dallas metroplex for more than 20 years. Our technicians are experts on tough Texas weeds, turf grass issues in extreme weather conditions, and even turf grass damage caused by armadillo rooting as they forage for grubs.
Fort Worth, or Cow Town as it is affectionately called, has maintained much of its old west heritage. Once the railroad arrived in 1876, Fort Worth became a major livestock center, with over 209 acres in 1890. People visit its historic stockyards from all over the county and the world. The Fort Worth Stockyards and the 98 acres surrounding it are national records as a landmark district. The Fort Worth Livestock and Rodeo is held from mid-January through the first week of February to celebrate its cowboy heritage.
---
Fort Worth Turf Grass Weed Control
Weedex will treat your Fort Worth lawn with eight (8) treatments every five (5) to seven (7) weeks throughout the year. We are locally owned and not a big national company. Our technicians are well-versed in the types of weeds commonly found in Fort Worth, including these three tough hombres of Texas weeds: King Ranch bluestem, nutsedge, and dallisgrass. These weeds spread quickly and are hard to eradicate, so dealing with them as soon as they appear in your yard is crucial.
Regular weeds like dandelions, thistle, and clover, are also covered in your lawn treatments to control all types of weeds that may threaten your yard. Our weed control for Fort Worth lawns includes two pre-emergent treatments in both the winter and spring to stop winter and spring weeds before they start. Our timely visits throughout the year enable our technicians to spot-treat weeds at the optimal times, fertilize your lawn and monitor it for any issue that may occur throughout the year.
---
King Ranch Bluestem weed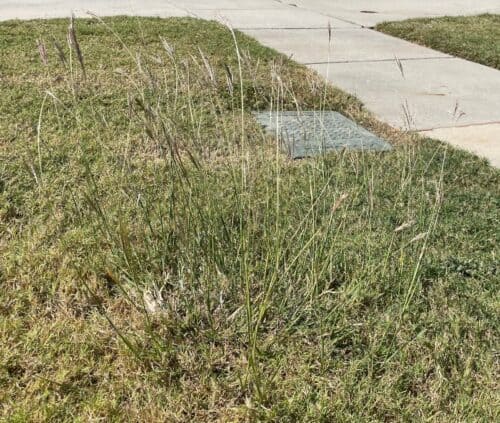 According to the Texas A&M, Agriculture Department, bluestem grass was originally imported to California in early 1917 from China. In 1924 it was brought to Texas by the USDA and later named yellow beardgrass. Not long after, the bluestem was introduced to the King Ranch for their use to control soil erosion, produce forage for cattle and increase the production of "King Ranch" bluestem for distribution. KR bluestem is drought-resistant and heat tolerant. It also grows extremely fast, an average of one foot per week. For years, cities have used it to prevent soil erosion on road construction projects. However, you do not want KR bluestem in your yard. Left unchecked, it can quickly take over your lawn. Do not wait when you see this invasive grassy weed in your yard. Call Weedex Lawn Care at (972) 727-9207 and ask about our lawn care programs or dig it up immediately and dispose of it.
---
Nutsedge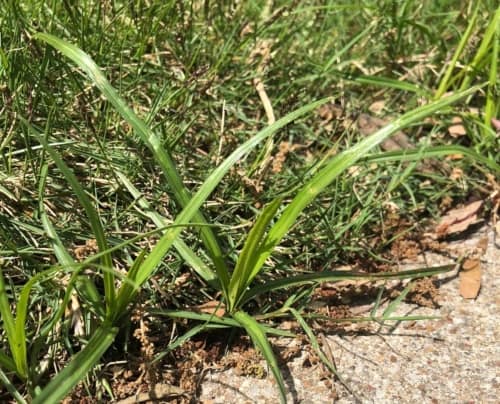 This weed is part of the sedge family of plants. It is not a grassy weed, although it looks like one. Nutsedge is quite common in Fort Worth. It is very invasive, spreading quickly when it pops up in your lawn. There are three varieties that are typically found in North Texas, including purple nutsedge, yellow nutsedge and kyllinga.
Nutsedge grows much faster than your turf grass. Even if you mow weekly, as you should, Nutsedge will appear taller than the rest of your grass within days. Do not pull nutsedge. Doing so will only make it spread more. Without proper treatment, you will find yourself in a futile battle with this weed. Ask about our nutsedge treatment program to rid your lawn of ugly nutsedge.
---
Crabgrass weed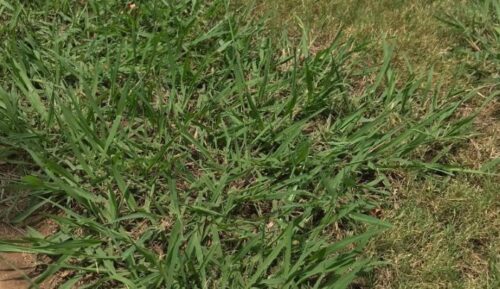 This grassy weed is prevalent in Fort Worth. Like most weeds, crabgrass thrives in lawns with bare spots or unhealthy turf grass. It is drought-tolerant and quickly spreads once it germinates. Crabgrass is low, flat, and clumpy in appearance. As its name implies, it kind of looks like a crab. Sometimes crabgrass is mistaken for dallisgrass. You do not want either grassy weed in your yard. Crabgrass seeds need light to germinate. A thicker, healthier lawn will make it more difficult for crabgrass to germinate, grow and spread in your yard.
---
Dallisgrass weed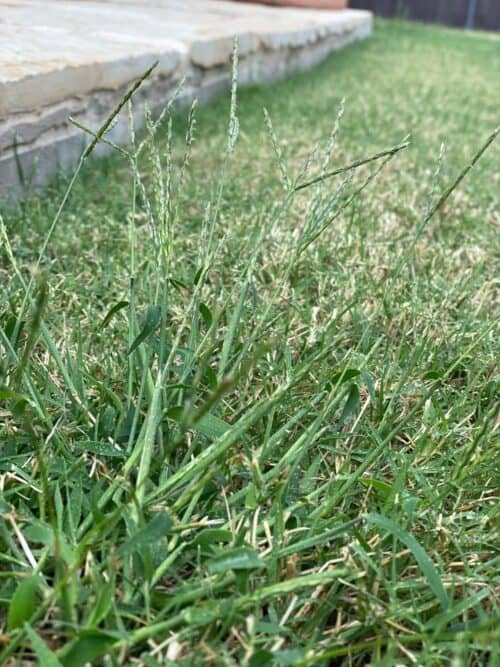 This perennial grassy weed is often mistaken for crabgrass since it grows in clumps. However, it can be easily distinguished from crabgrass by its taller shoots with caterpillar-looking seed heads. The seed heads will occur from May through October. Remember that you do not want dallisgrass or crabgrass in your lawn. Post-emergence herbicides applied at the right time can help control this weed. However, if you are willing to put in the effort, digging it up will eliminate it if you remove the entire clump and underground tubers. To keep other weeds from germinating in the bare spot, be sure to fill the hole with topsoil and grass seed.
---
Fort Worth Lawn Fertilization Treatments
Our lawn treatments are formulated and timed to optimally treat your turf grasses in Fort Worth, including Bermuda, St Augustine and Zoysia. If you have lived in Fort Worth for any length of time, then you know that extreme weather is typical in North Texas. Excessive heat in the summer is followed by bouts of cold temperatures in the winter. However, temperatures can swing from the 30s to the 70s on the same day! These extreme weather changes can add to lawn challenges to stay thick and healthy.
Our customer communication is second to none. Our office will call you a day or two before we treat your lawn to confirm with you. Your technician will communicate with you before and after each weed control and lawn fertilization treatment. They will make you aware of the service performed, any issues discovered, along with watering and mowing needs for your lawn. A written summary report will be emailed to you as well. Our professional weed control and lawn fertilization treatments will control your weeds at your Forth Worth home while providing you with a lush, healthy lawn to keep future weeds at bay. Greener lawn. Happier You. Call Weedex Lawn Care for a fast free quote today (972) 727-9207