If weeds are taking over your lawn, it may be time to call in a professional! At Weedex, our tried and true weed services will have you resting easy. As we always say, greener lawn, happier you! Let's talk about some different types of weed control services, as well as how you can decide what treatment might be best for your yard!
---
Weed Treatment Company
What exactly does a weed treatment company do? Weed treatment companies like Weedex Lawn Care can be such a help when it comes to keeping your lawn green! A company will come out and treat your lawn professionally to control weeds with timely pre-emergent and post-emergent treatments throughout the year. They will also spot treating broadleaf weeds as they pop up. When you try to eliminate weeds on your own, it can be a frustrating process! You may even pull a type of weed that will cause the problem to worsen. Let's look at one of the more problematic weeds you might run into… and have an annoying battle with!
---
Nutsedge
Uh oh, if you are trying to find out how to get rid of nutsedge, you likely already know how frustratingly stubborn it is! Not sure if the weed you see is nutsedge? Look for a "v" shaped shoot of grass that is taller than the rest of your grass. If the weed you see seems to be split in two, as seen in the picture, it could be the ever-persistent nutsedge weed!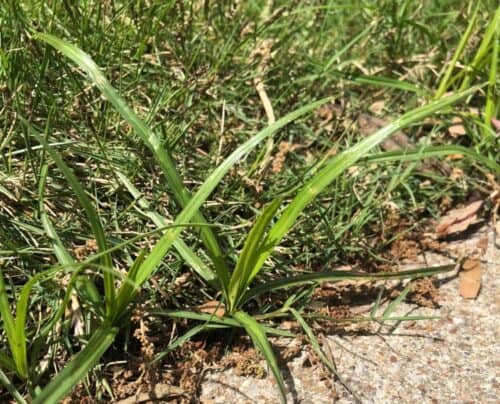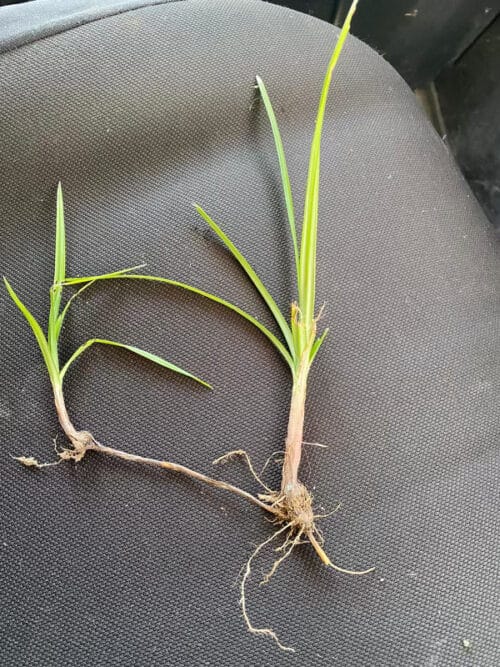 Even though you might be tempted to pull these weeds, don't! This will only compound the problem because nutsedge has tubular roots connected to the weed's base. When you pull the weed out of the ground, it triggers the rootstalks called rhizome to grow more weeds!
Even though this weed is a tough one to manage, you don't need to worry. At Weedex Lawn Care, our weed services include a treatment program that will cover spot treatment of nutsedge in your yard. Know that nutsedge is a stubborn weed. Your lawn may require a second application of nutsedge spot treatment to kill it off completely.
We have your back. You won't have to battle it alone! If your lawn has many nutsedge weeds, inquire about our Nutsedge Control treatment covering your entire yard. Multiple treatments are included in our Nutsedge treatment program if they are needed to kill this pesky weed. Call Weedex right away, and our expert lawn technicians will take care of the problem for you. Get a free quote right now! (972) 727-9207
---
Weed Control and Fertilization Services
Not only will Weedex Lawn Care work to control weeds like stubborn nutsedge, but we will also provide excellent fertilization services for your lawn! Many times, it can be easy to forget about lawn care during certain seasons. Everyone thinks about their lawn during the summer when it requires mowing every week, or you feel like you are constantly watering the whole thing. However, lawn care services are not exclusively for the summer months! Caring for your lawn by hiring a weed control and fertilization service company like Weedex ensures that your lawn will be receiving the timely attention it needs year-round! Let's look at Weedex's expertly tailored lawn care treatment program to see how it can work for you.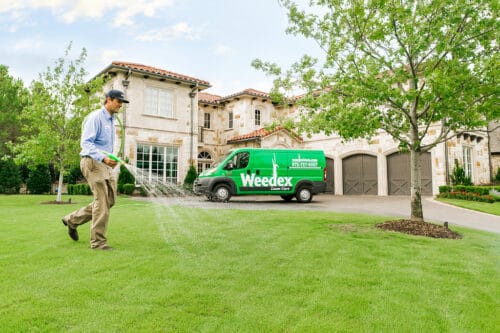 ---
Weed Service Near Me
The Weedex Lawn Care service program is an eight part year-long lawn treatment plan for weed control and fertilization. Our expert lawn care technicians have your back! We believe in putting our customers first. Our lawn treatment program gives your lawn the very best in fertilization and weed control, helping it thrive during all seasons. We will service your turf grass with strategic eight service treatments throughout the year. Every five to seven weeks, you can expect our hard-working technicians to treat your lawn with the best of the best. Your turf grass requires different applications of different products throughout the year, but we take all of that hassle and confusion away from your busy schedule!
Finding the exact combination of ingredients, treatments, and products for your unique lawn is very confusing. There's so much out there telling you different things, touting different weed control treatment products, and different fertilizers, all claiming to be the best. Let us take that mess off your hands!
The truth is, there is no one-size-fits-all solution for every type of grass, weed, problem, and location. Not to mention what season you are currently in! At Weedex, we take all of those variables into consideration when treating and fertilizing your lawn. Our treatment program includes specialized treatments for all of the different seasons. Here are some of the ways we help your lawn survive and thrive throughout the year!
---
Weed Control Services
Let's start with springtime! Our expert lawn care technicians will service your lawn twice in the spring season. Spring weed services include a liquid pre- and post-emergent to control broadleaf weeds and grassy weeds. The spring treatments will also help to prevent summer weeds from popping up! At Weedex, we like to think ahead so that you can enjoy your beautiful lawn year-round. Our spring lawn care treatment will also help green your turf grass right up, returning it to its green glory after the cold winter season.
What's better in the springtime than stepping outside to smell the flowers and feel soft green grass beneath your feet? Not much, in our books!
Our summer weed services are just as crucial to your lawn's health! Just when it's getting hot and dry, your lawn is crying out for attention. It definitely needs a little bit of extra TLC during these scorching months!
In the summer, we're all using our lawns more than ever. The long days and warm temperatures lend themselves to backyard barbecues, pool parties, and simply time spent outdoors. Whether you like to garden in the summer evenings or play with your kids or pets in the grass, your lawn will likely see a lot more activity in the summer months!
At the same time, unfortunately, the summer can be quite taxing on your lawn's health! The rising temperature can scorch your grass, and when coupled with the lack of rain we often see in summer, the results can be devastating to your lawn. On your own, you can make sure that you are keeping your grass watered by monitoring your sprinkler settings.
You don't want to drown your yard with too much water because that can create a whole separate problem. Pools of standing water on your lawn can invite lawn fungus to move right in. Yuck, no thanks!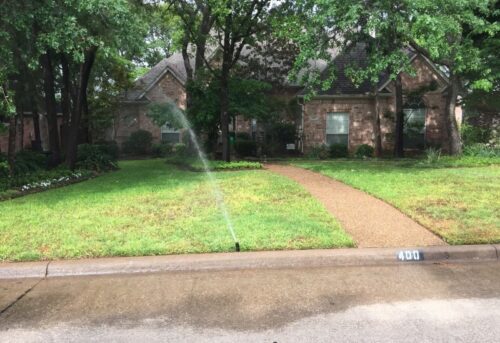 Let's talk about how long to water your lawn, as well as what is the best time to water your lawn!
---
Top Three Tips on How to Water Your Lawn:
1. Best Time to Water Grass
The best time to water your north Texas grass is early in the morning. You do not want to water your lawn at night or too late in the evening because it will be more diffcult to tell if there are any watering issues. Standing water in your yard will cause your grass to stay wet all night, increasing the risk of developing lawn fungus. Overwatering is not the only cause of standing water. A broken sprinkler head can flood one spot in your yard while creating a drought in other areas. It will also waste your water and increase your water bill. It can be challenging to see a broken sprinkler head in the dark. You want to see well in the daylight to monitor your lawn during the watering process. Check your irrigation system periodically to make sure it is working correctly and are not over-watering your lawn. See more on this topic in the third water tip below.
2. How Long to Water Grass
You should water your grass long enough to drench your lawn with the appropriate amount of water for the type of grass you have. There are many types of grass that require different amounts of water, but luckily there are guidelines for each type! You definitely want to keep a close eye on your lawn while you are watering because over-watering can lead to all kinds of lawn fungus and diseases that no one wants to deal with. When determining the length of time to water your grass, you first need to know how much to water your grass! Let's take a look at that.
3. How Much to Water Grass
How much water you need depends on the type of grass found in your yard! For example, if you have St Augustine grass, the recommended amount of water per week is 1 to 1.5 inches. You can measure this easily with a rain gauge or even just using an empty tuna fish size can! Place either on your lawn, then check it at the end of the week to measure the amount of water your lawn received. You can even move the gauge or an empty can around in each zone to make sure the water is distributed evenly across your lawn. You don't want any random spots getting left out or overdone!
---
Summer Weed Control Services
We want you to enjoy a green, lush lawn all summer long. Our special Weedex Lawn Care treatment plan offers the perfect combination of products and services to keep your turf grass beautiful all season! Spring and summer are both critical seasons when it comes to lawn care for different reasons. As we've mentioned, at Weedex, we plan for the future health of your lawn. Our summer treatments not only treat broadleaf weeds that are currently springing up, but we also apply a well-balanced, slow-release fertilizer during our visits.
Our summer fertilizer treatments not only focus on the green growth of your lawn, but also helps to promote those healthy roots. We understand that a healthy root system is key to your lawn's success in hot Texas summers! Your turf grass has a lot to stand up against in the summer. Texas lawns are subject to the oppressive heat. Think about it.
Blazing hot sun rays are beaming down on your poor grass blades all day, every day! And on top of that, the rain is next to none most of the time. That is a deadly combination for your lawn! Luckily, you have already figured out how to water your lawn appropriately, but we still need to prep and protect your precious lawn with everything it needs to battle the Texas heat.
---
Dallas Weed Control
If you are in Dallas, you are not exempt from the hot, hot summers we are talking about here! If you have weeds in your yard in the Dallas area, we recommend letting an expert weed control company like Weedex Lawn Care to come out and take care of your lawn for you. We will help get those weeds under control while simultaneously giving your lawn a fighting chance against the heat! In fact, we guarantee your lawn will be greener. Who doesn't want a greener yard? Our motto is "Greener Lawn. Happier You."
If you are looking for the best treatment program for your lawn, we highly encourage you to call Weedex today for your free estimate! (972) 727-9207
---
Best Weed Control for Lawns
Controlling weeds in your lawn requires a year-round effort. If you want to treat your lawn with the best products while also ensuring it gets the treatments and attention it needs to stay healthy and green, call Weedex today at (972) 727-9207! We put our customers first. Our technicians truly care about you and your lawn, delivering the best treatments at the perfect times throughout the year. We take the guesswork out of lawn work!
Our motto is "greener lawn, happier you!" We genuinely believe that by helping you to create a beautiful lawn that you can enjoy, we get to play a small part in helping you create a sanctuary for yourself and your family to enjoy. Making family memories out on the lawn is a beautiful part of life! We are proud to provide what we know is an effective eight (8) part treatment program for your lawn annually. We work tirelessly to help eliminate weeds from your yard, as well as nourish your grass from root to tip.
Our year-long treatment program provides excellent quality fertilization for the growth of beautiful, green grass. It also controls those pesky weeds, so you don't have any eyesores or poky things to step on that go untreated. We also treat brown patch, lawn fungus, lawn disease, and lawn pests. We are a full-service lawn treatment company with high morals and values!
Don't become overwhelmed with all of the information out there about which products you need for your lawn. Instead, let us take all of that off your plate! Weedex Lawn Care is trustworthy, with 20 years serving homeowners like you in the Dallas Fort Worth metroplex. Our company is a BBB accredited business and we have been selected "Best Pick" for eleven (11) consecutive years by the Best Picks Report for home services companies. We genuinely put our customers first, and we stand by that! We want you to feel assured that your lawn is in the best hands. From our wonderful office staff to our expert field technicians, we work tirelessly to get you the results you've been dreaming of! Get a better-looking lawn, satisfaction guaranteed. Greener Lawn. Happier you. Call Weedex today! (972) 727-9207