Wondering where to buy top dressing for lawns? We have the answers for you! If there is one thing we know as Texans, it's how frustrating poor-quality soil can be. If your lawn needs a little extra TLC, top dressing your lawn could be the perfect thing. There are several different types of top dressing that you can buy for your lawn. Your local garden store or home improvement store will have a range of top dressing options ranging from sand to organic compost and manure. Before you buy top dressing for your grass, let's look at the reasons your lawn may benefit from top dressing in the first place!
---
Benefits of Top Dressing
The benefits of top dressing far outweigh the hassle, in our opinion! We know that applying top dressing is a bit of work, but doing so will help your green grass thrive!
Some of the benefits of top dressing your lawn include achieving thicker, greener grass by adding nourishment to poor soil and essentially feeding your turf the organic matter it craves. Mmm, compost— delicious!
When you step out onto your lawn, you don't want to be getting poked in the feet with dry, thin grass. You certainly don't want to see brown patch lawn fungus or root rot creeping in to take over your turf! Top dressing can be an effective part of the solution for all of these problems and more.
Picture a beautiful day. The sun is shining, birds are chirping, and you open up the front door, letting a burst of cool, fresh air inside. (I guess we are not imagining a Texas summer here but stick with us.) Beautiful, thick, green grass stretches out like a blanket over your lawn. You take a step out, coffee cup in hand, and feel nothing but thick, soft grass beneath your feet. Maybe your dog is running through the backyard, for once not getting covered in mud, because there are no dirt patches to be seen.
What a lovely scene this is, right?
At Weedex, we would love to help you make that scene a reality! We understand that your lawn is a part of your life. You see your yard every day, and it can either bring stress or peace.
Top dressing your lawn is one step in creating that picture-perfect staycation type of yard. We would love to have the opportunity to help your lawn reach its greenest potential!
---
Compost Lawn Top Dressing
Okay, so now that we have established a pretty clear picture of why you deserve the lawn of your dreams, let's look at some options for achieving it! Compost top dressing can be a great tool in the gardener's toolbox when it comes to caring for a lawn. Not only can it help to enrich poor soil (hello, fellow Texans), but it can also be a vital part of treating certain lawn fungi or diseases. For example, when dealing with a St Augustine fungus like take all root rot, we recommend applying a good fungicide treatment, followed by a peat moss top dressing. In the case of top dressing your lawn for optimal nutrient density and turf growth, however, there are a few options for you to consider.
One of the best types of top dressing for your lawn is compost lawn top dressing. It may seem kind of funny to spread compost on top of your grass, since you usually think of dirt being under grass at all times (duh). The truth is, however, spreading compost top dressing can be a big help when it comes to nourishing your lawn!
Some people use other types of topdressings for their lawn, such as sand to even out dips and holes in their lawn. Sand is often used on golf course greens. However, using sand on North Texas clay-based soils can add to compaction and not add needed nutrients.
If you truly want to nourish and strengthen your lawn, compost lawn top dressing with manure is considered one of the best top dressing formulations available. The microorganism boost from the manure will improve the results that you will get with a good compost top dressing
---
Top Dressing with Compost
Top dressing with compost adds organic matter to your soil, improving the overall structure of the dirt, and boosting your lawn's health and appearance. Compost with manure will provide an added boost of nutrients. Let's break it down a little further to see why choosing a compost top dressing can be an excellent choice for you.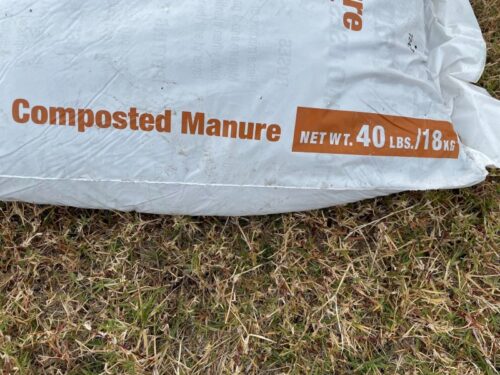 ---
Lawn Top Dressing:
Helps to break down fallen leaves and other organic matter into nourishment for your lawn
Is environmentally friendly
Boosts microorganism content in your soil
Reduces the effect of drought (good news for Texans!)
Helps combat the effects of lawn disease
Reduces the effect of insect damage
Helps maintain moisture within the soil
Enhances the appearance of your lawn throughout the season
Top dressing started in Scotland long ago as a way to keep golf courses beautifully green. However, you don't have to be a greenskeeper. With a few garden tools, you can apply top dressing to your lawn yourself. It can be quite a chore, but top dressing your grass is not impossible! Here is what you will need to apply top dressing at home.
---
Top Dressing Lawn Equipment:
You will need:
Sturdy garden rake
A shovel
Wheelbarrow
Top dressing of choice
Some elbow grease!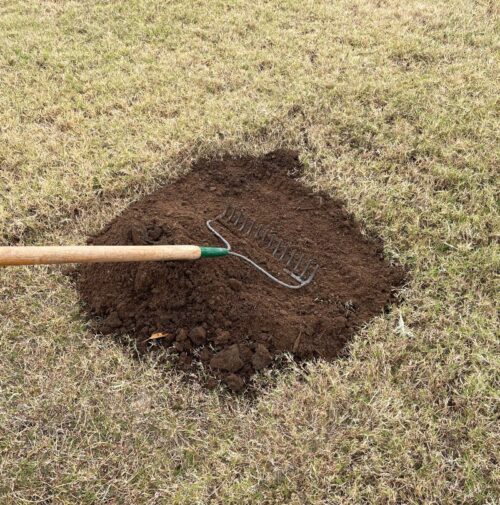 ---
How Do You Top Dress An Existing Lawn?
Spreading top dressing yourself can be labor-intensive. Before committing to a DIY top dressing project, it's essential to consider how much work you are willing to do, or even have time to do. If you do plan to top dress your lawn, there are a few crucial factors to consider. It is best to apply your top dressing in the early spring after the last frost and before the temperatures heat up. Top dressing your yard during hot weather can burn and kill your grass.
Before you start spreading your top dressing, you will want to mow your Bermuda or Zoysia turf grass as short as possible. This process is known as 'scalping," and it removes the old dormant growth and helps jump-start new growth in the spring. You do not need to scalp St. Augustine grass. Next, have your lawn professionally aerated to reduce soil compaction and help the soil absorb the top-dressing nutrients. Weedex Lawn Care offers a core aeration service to aerate your grass before you add top dressing. Call us today at (972) 727-9207 to schedule your aeration treatment along with our annual lawn treatment program.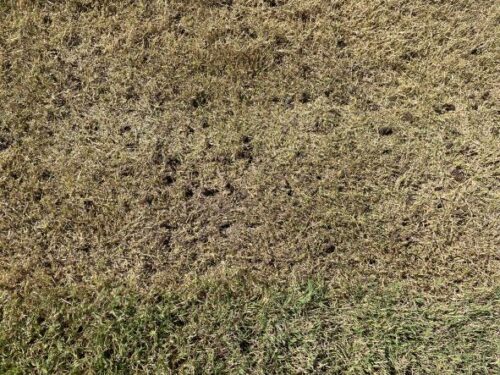 Next, you can start shoveling out small amounts of your top-dressing material onto your lawn. Work in small areas, spreading the compost with the backside of a garden rack, just a few square feet, to ensure that you get even coverage. You want to be careful not to apply too thick of a layer! It would be best if you always aimed for about a 1/4-inch layer across your entire lawn. It can be taxing for sure, but top dressing your yard can be worth the effort! A greener, thicker, and more luscious grass is what we're after here.
---
Top Dressing Your North Texas Lawn in 5 Easy Steps
Cut your grass as low as possible, after the last frost in the spring, to promote new grass growth
Have your lawn aerated to reduce soil compaction, aid in nutrient & water absorption, promote turf grass root growth
Buy compost that contains manure in bags or by the truckload
Use a wheelbarrow and shovel to haul the compost
Spread the compost on the lawn, ¼ inch thick, with the backside of a garden rack
---
Top Dressing Spreader
If a wheelbarrow and a rake are not ringing your bell, you can rent or buy a compost spreader. However, as we have discussed, top dressing your lawn is most effective when coupled with proper aeration and weed control and other fertilization and lawn care treatments. Therefore, we recommend you go ahead and hire a professional lawn service company to take care of all of this for you. Weedex Lawn Care has been serving North Texas homeowners for over twenty years. We can take of aeration and lawn care treatments to help your yard live up to its greenest potential. Give us a call for a free quote today! (972) 727-9207
---
Where to Buy Top Dressing
Alright, so you have narrowed down exactly what you want, decided to do the hard work yourself, and now need to find out where to buy top dressing for lawns! You can likely purchase different types of top dressing at your local home and garden store. A local nursery is also a great choice when buying top dressing. You may even want to ask employees to help you select the one you need for your North Texas yard.
If you have a large lawn, you may want to buy in bulk with a truckload instead of purchasing top dressing by the bag. Bags can be easier to manage, but a truckload can be much less expensive, depending on your needs. Some local municipalities sell local compost like Plano with "Texas Pure" and Denton with Dyno Dirt. Living Earth also has compost facilities located at several landfills around DFW, including Arlington, Flower Mound, Plano, Rockwall, and Fort Worth, and they deliver.
---
Lawn Top Dressing Service Near Me
By now, you have probably decided you are ready to tackle the labor-intensive job of spreading that top dressing across your lawn, or you are ready to call in the professionals. If you prefer a turn-key top-dressing service, we have recommended Earth Kind Services located in Denton for quite a few years. They are focused on composting, providing delivery as well as spreading compost on your lawn.
At Weedex, we consider our customers to be our first priority in every situation, We care about your lawn, and we want to see it thrive season after season!
Give us a call to get personalized feedback on your unique lawn! Our basic lawn care treatment program will also add weed control and fertilization to your yard in timely applications throughout the year. We also provide core aeration service, grub control, and other specialty lawn care services. We take pride in caring for your lawn, and as always, we guarantee satisfaction. (972) 727-9207 Like we always say, greener lawn, happier you!
Our services take care of all your weed control and fertilization needs. Every five to seven weeks, our expert lawn care technicians will come out and service your lawn with the best treatments available. We take the guesswork out of yard work!
Our lawn care service treatments always include timely visits at each key points in the changing seasons. We will apply the best fertilizers for your North Texas lawn while keeping weeds in check and under control.
All in all, a top dressing can be a super effective and nourishing treatment for your turf grass! We hope you will consider giving Weedex a call (972) 727-9207 or click the link for your free lawn fertilization and weed control quote, and let us help you care for your lawn. Call our friendly staff to get started on a greener lawn today!