What kind of yard treatment does your lawn need? If you are experiencing problems with your lawn, finding the right yard treatment could help you get back to the green grass you're looking for! You may be wondering, what is a yard treatment, how do I choose the right one, and can I do it myself? Let's take a look a little deeper into the world of lawn care and treatment programs to decipher your lawn's unique needs.
From fertilizers to fungicides, there are many products to choose from when it comes to applying treatments to your yard. First, you want to identify the problem that you need to resolve.
---
Lawn Fungicide Treatment
Do you see brown spots in your grass? Are there dry, dead patches, or just patches with little to no grass left? Brown patches and thin spots of grass could be a telltale sign of a lawn fungus. You could have take-all root rot, or brown patch fungus encroaching on your beautiful lawn! No, thank you! Fortunately, there are many effective fungicide yard treatments to help control that lawn fungus, and get your gorgeous, green grass back.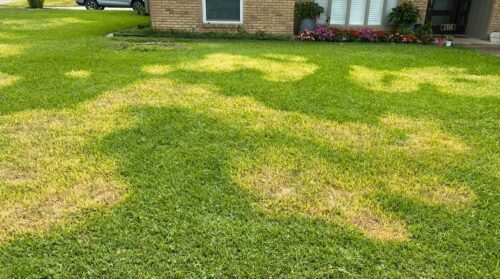 Not sure how to choose a good, safe, effective fungicide? Give Weedex a call! Our year-long lawn care treatment program will keep your lawn healthy year-round. If you currently have lawn fungus destroying your lawn, we can take care of that as well! You can rest easy as our professional team delivers the best grass fungicide treatment for your specific lawn. Call Weedex now to get a free quote! (972) 727-9207
I know for me, having a lush, green lawn is as important as a nice, clean home! There is nothing more satisfying than stepping out of the house on a warm, sunny day to feel the soft green grass beneath your feet. My own lawn, however, used to be miles from that!
Stepping out onto bald patches of dirt, prickly weeds like thistle, and just crunchy, brown grass was a part of my everyday life. It was definitely not how I imagined my dream lawn to be! Some people may not realize the important role that your lawn plays, but my bet is that you recognize the value in having a lush, green lawn. It's not only for aesthetics— although that is important of course— but it's also a part of your lifestyle. Whether you're outside playing with your kids, playing fetch with your dogs, having a backyard picnic or barbecue with friends, or a pool party with family, your lawn is a common key factor. If you don't have a healthy lawn, your everyday activities become less enjoyable, if not impossible altogether!
If you're nodding your head right now, I know we're on the same page here. The question is, how can you get your lawn to live up to your dreams, and work for you and your family? That's where Weedex Lawn Care can help!
---
Lawn Treatment
Weedex Lawn Care takes away the need for you to worry about which treatment is right, when you should apply what, and how to diagnose your lawn's issues. We do all of that for you! Our lawn care technicians truly care about you and your lawn. We take the guesswork out of yard work!
Let's face it: taking care of your lawn can be a big hassle! You mow and trim and water and treat, but if something like a diffcult weed or a lawn fungus comes along, it can ruin your hard work! There is nothing more defeating than spending so much time and energy on something, only to have it destroyed by something out of your control.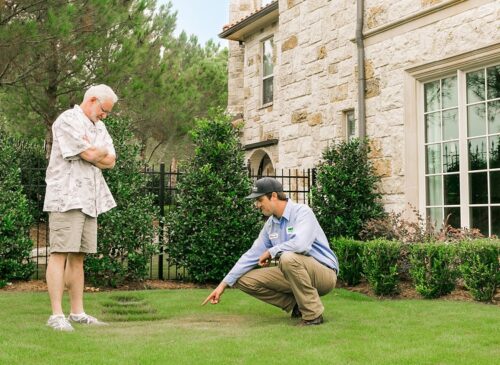 Many people don't realize, taking care of your lawn comes down to a lot more than just mowing and watering! Those things are crucial, of course, but there is actually a lot of strategy and planning that goes into creating a greener and thicker lawn. In fact, we map out your lawn care a whole year in advance! That's why our slogan is, greener lawn, happier you! We take that hassle and all of that effort off of your shoulders. Our year-long lawn care treatment program will take care of existing problems in your yard, while preparing it for success in the coming seasons.
---
Pre Emergent Herbicide
What is Weedex's year-long lawn care treatment program, you ask? Everything your lawn needs to be set up for a greener, healthier future! We include all of the aspects of lawn care when it comes to caring for your yard. Of course, our services include weed control, where we come out and spot treat current visible broadleaf weeds, but we don't stop there! We use several ways to prevent and treat weeds in your yard, even before they rear their ugly heads. That is called a pre-emergent weed control product.
Why do you need a pre-emergent product? You don't want to be playing catchup when weeds have already started to take over your yard! If you're constantly on defense mode, you'll be fighting pesky weeds forever. Take action, and let a professional weed control company like Weedex get aggressive with managing those weeds, you're going to have a lot easier of a time!
At Weedex, we believe in using only the best products for our yard treatments, such as our top quality pre emergent weed control product. Our hard working yard care technicians will apply the right product for your lawn at just the right time.
---
When to Apply Pre Emergent:
We apply our pre-emergent to your lawn at specific times throughout the year. During our year-long treatment plan, we will apply a pre-emergent (among other treatments) to your lawn in Winter, Spring, Late Summer, and Fall.
Applying pre and post-emergent to your lawn is only one way that our lawn care treatment plan fights weeds and keeps your lawn healthy! Another way that we keep weeds under control is by ensuring the thick, healthy growth of your turf and its root system.
Weeds and turfgrass are competing for the same water, nutrients, and sunlight in your lawn. If you thicken your grass's root system and create a dense, luscious lawn, you will be essentially choking out any new weeds that are trying to infiltrate your yard!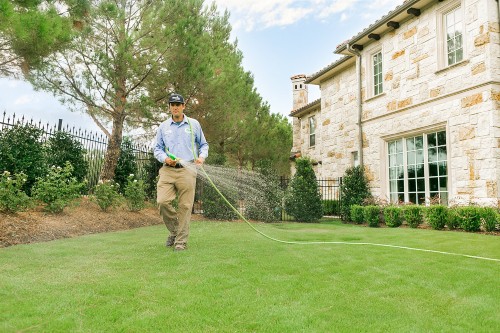 Weedex's treatment program will be your best friend. We make sure to give your lawn every chance possible to thrive. By managing weeds, applying pre and post-emergent and spot treatments, and nourishing your lawn with amazing slow-release fertilizers, your yard will be practically bulletproof! Or, at least, it will be geared up and ready for battle with the toughest weeds.
---
Lawn Care Treatment
Weeds are not the only troublesome issue plaguing your lawn! More culprits can be drought, heat (hello, Texas sun!), yard pests such as chinch bugs and grubs, yard fungi, and more! That's where the process of selecting the appropriate yard treatment for your lawn can be a little bit overwhelming. To gain a little bit more insight, let's look at some of the other ways that Weedex helps manage people's lawns to create the best staycation yard possible.
Weedex Lawn Care has created a lawn treatment program that is both effective and strategic to care for your lawn all year long. Our eight (8) annual lawn treatment includes weed control products, fertilization, and soil builders to give you a greener, healthier lawn. And the best part is, you don't have to lift a finger! (Except for the finger that is dialing our number, of course! Get your free quote now: (972) 727-9207
---
Lawn Care Program
You can leave your wheelbarrow parked right where it is, and let our expert lawn care service technicians handle the rest. Our trustworthy technicians will visit your lawn a total of eight times, spaced perfectly throughout the year. Here are a few of the key treatment elements that you can expect during our service visits at various times throughout the year:
Liquid pre and post-emergent application at crucial times throughout the year
Application of a well-balanced, slow release fertilizer to nourish your turf and its root Remember, creating a dense root system is key to creating a thick lawn, which aids in choking out those unwanted weeds!
A thorough check for damage due to insects of disease. It's important to keep a close eye on these things!
Spot treatment for broadleaf weeds
Liquid soil building treatment to increase fertilizer efficiency to enhance root system development and turfgrass tolerance to winter season stress.
There are so many ways that Weedex can help your yard thrive! We know all about every type of grass, weed, and lawn care problem you might have. Our passion is to help turn our knowledge and expertise into green, gorgeous lawns for our customers! As we always say, greener lawn, happier you! Let us help you get there with our year- long lawn care program. Satisfaction guaranteed!
---
Lawn Treatment Company Near Me
Weedex Lawn Care is dedicated to servicing all kinds of lawns across Dallas, TX and the surrounding areas. In fact, there are quite a few cities and areas that Weedex serves! If you're in one of the following areas, and you want the very best lawn weed control service around, give Weedex a call for a free estimate! (972) 727-9207
Here are the locations in which Weedex Lawn Care provides lawn treatment and weed control services:
Burleson
Desoto
Duncanville
Midlothian
Red Oak
Waxahachie
If you live in one of these areas, please don't hesitate to give Weedex a call right now! No matter the issue you're having with your lawn, we would love to diagnose it for you and help find the right solution.
We've seen our fair share of lawns, and we know what kinds of problems can occur. From stubborn weeds like dallisgrass, to fungi like take-all root rot, we have the tools, knowledge, and treatments to help get these annoyances under control! Let us take the hassle off your hands. We would be honored to help make your lawn a little bit more of an oasis for you and your family.
Lawn Care Service Near Me
Weedex Lawn Care's yard treatments and lawn care services are unmatched in quality. Let our experienced technicians help your yard stay green, with less weeds and more opportunity for backyard fun!
Our standards are high in every aspect of our business. From our friendly staff to our detailed lawn work, we aim to please our customers. If you need a yard treatment, weed control service, or any help with your lawn at all, don't wait! Get those issues resolved as soon as possible by calling Weedex today. Get your free quote now, and get on your way to a greener yard! (972) 727-9207